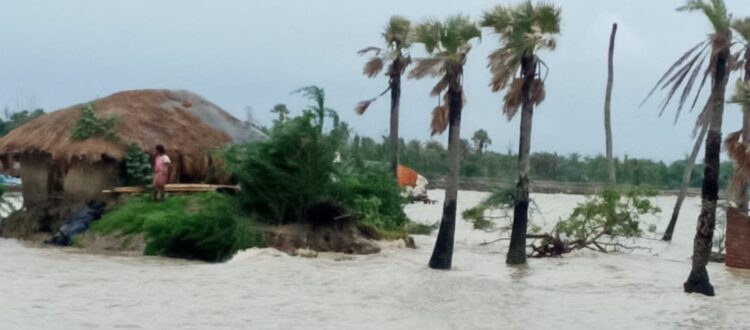 Villagers Repaired the Destructed River Embankments: Mukti Assists them with Food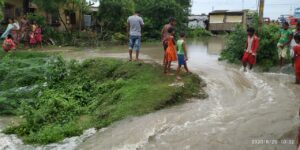 In the year 2020 the people of Sunderban experienced a number of hazards. The Covid-19 pandemic was first confirmed in the Indian state of West Bengal on 17 March 2020, then super cyclone Amphan on 20th May. Villagers of Sunderban have seen so many destruction within 2-3 months. Covid-19 snatched their livelihood by shutting down businesses and limiting mobility; villagers don't have the option of moving to other places in search of work and the impact of Amphan was devastating for the millions who live in the Sundarbans. Mud homes were swept away, embankments were destroyed and farms were inundated by saline water that made them unfit for cultivation.
Despite such life threatening issues, Sunderban villagers just started to stand up again and just by then they were again hit by a severe flood. Their situation is like "The steep blow on the die". The heavy rainfall along with the spring tide has flushed the saline water again by breaking the river embankments into their land.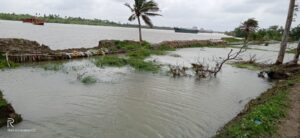 Area wise destruction report
Block

Name

Gram Panchayat
Village

Name

Length of River Embankment
Houses
Farming Land (Bigha)
Betel

Leaf Plantation

Impacted Villagers
Namkhana
Frejargunj
Amarabati
200 meter
X
150
X
200
Narayanpur
Iswarpuri
400 meter
225
300
27
450
Narayanpur
Dwariknagar
300 meter
42
100
X
300
Shibrampur
Patibuniya
200 meter
120
130
12
100
Patharpratima
G Plot
Govardhanpur
300 meter
62
300
7
250
Durbachoti
Paschim Surendranagar
9 meter
X
500
7
300
Ramganga
Sagar Madhabpur,

Dakshin Shibpur

300 meter
30
500
30
280
Banashyam

Nagar

Gangapur,

Shibnagar

450 meter
X
500
10
200
Kultali
Bhubaneswari
Halder Gheri
500 meter
X
1,000
X
200
Bhubaneswari
Paschim Debipur
200 meter
X
350
X
100
Deul Bari
Kaatamari
400 meter
80
550
X
100
Canning
Itkhola
Bhudhakhali
2000 meter
400
2000
X
1000
4 Blocks
10 GPs
13 villages
5259 meter
959
3830
63
2480
For the sake of their survival the villagers stand together to fight their regrettable fate. They did not wait for anyone's help and reconstructed the river embankment by their own.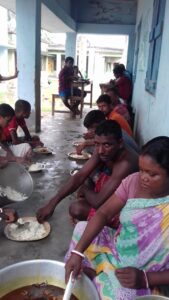 They appealed for the assistance of Mukti. Mukti decided to feed them for the days they worked. Mukti SHG members of Canning Block arranged meal for the workers. They prepared food for around 40 people (including the workers and the cooks). Rice, daal and soybean curry was served. Mukti fed those warriors for 5 days. In future also Mukti will stand beside them.
Mukti appreciated their attempts and hard work. The activities of Mukti encouraged them to serve the society to the best of their capacity.