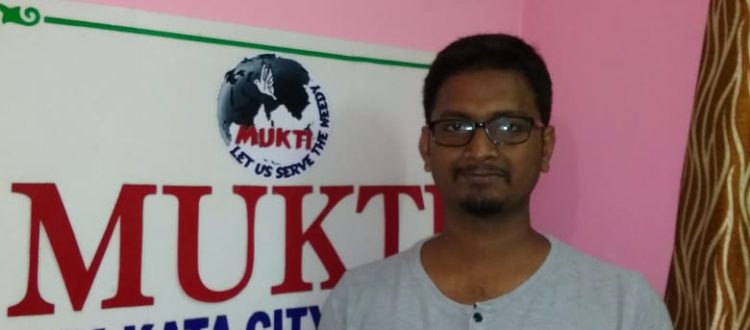 TSS Success Story – Subhadip Samanta
Subhadip Samanta, an Alumni student of Talented Student Sponsorship (TSS) of Mukti of session 2017-18 made us all very proud and happy.
Subhadip lives in Baradanagar in the South 24 parganas district of West Bengal. His father, Sri Srimanta Samanta is an employee in a private security company at Haldia. His mother, Namita  Samanta is an Asha worker under NRHM Programme of  Govt. of WB. Subhadip, the only child of his parents, has always been a very sincere and hardworking student. His only ambition is to start his own business.
He became associated with Mukti while he was pursuing 1st year of Bachelor of Business Administration under Carreograph Institute of Management Studies. He was very apprehensive about completing his studies. He came to know about the sponsorship programme of Mukti from one of his senior. In the year 2016, Subhadip was selected by Mukti Australia who wished to sponsor him till completion of his course. Till 2 years, Subhadip have received financial support from his sponsor and completed his course successfully in 2018.
During this period, the student was also involved with various part time event management teams and carried on assignments as per his convenience. The amount has been utilized in his studies and for meeting his own expenses. He also received offers from a few companies for managing corporate and other social events.
Subhadip wishes to pursue MBA in the next few years. He is already working in various projects of event management and saving money to pursue course from there.
The student is very thankful to Mukti Australia for having faith and showering support to help him reach his goal.
Subhadip is currently an active social worker in the TSS project of Mukti. He takes initiative and participates in the various programmes of Mukti and is always found beside Mukti in all important programmes.  Mukti is very proud to see his commitment.
We wish him all the best for his future and also wish that he accomplishes his dreams successfully.