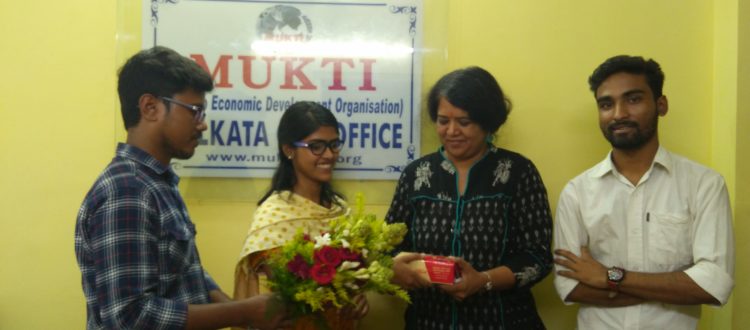 TSS Project: Student-Sponsor Meeting
A meeting was organised between Ms. Ramya Nageswaran & her sponsored students on 2nd November 2018 at the Mukti city office in Kolkata.
Ramya madam have been sponsoring three students from the year 2016. Abhijit Adak is pursuing graduation in Zoology and currently in 2nd year, Sibani Mondol is doing M.A. Sanskrit – 1st year and Polarica Palit is pursuing MBBS and presently in the 4th year. She also met Saminur Islam pursuing MBBS 3rd year – a sponsored student of Mr. Saravanan from 2017.
The students were very excited to meet their sponsor for the first time. Ramya madam had a detailed discussion with each student. She asked them to give more stress on spoken English as this will help them in future. She guided them to the right path of life and requested them to involve in social cause in future which will help them to build a good character.
Ramya madam promised to support them in future. We thank Ms Ramya Nageswaran for her time in visiting Mukti and meeting the students.
Currently we have 126 students under the TSS (Talented Student Sponsorship) program who are being supported by 52 sponsors. We request all the sponsors to meet and talk to your students. This will inspire & motivate them in the long run.