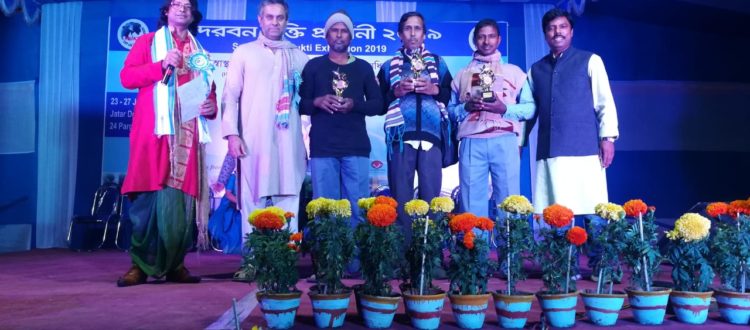 Sundarban Mukti Exhibition, 2019
Mukti with the aim to bridge the gap between rural and urban inhabitants organises exhibition every year. The rural people of Sunderban gets an opportunity to intermingle with inhabitants of other rural areas and urban folks. The 4th Sunderban Mukti Exhibition was held on 23rd January and continued with a grand success till 27th January 2019.
There were an average 25,000 footfalls every day. These five days were dedicated to commemorate five different work streams of Mukti such as – Agriculture & Environment Day, Health Day, Education Day, Livelihood Day and Human Rights Day.
There were many special guests such as Zila Parishad member Sri. Shantanu Bapuli & Alok Jaldata, Smt. Swati Chakraborty – Block Development Officer, Poet Sri Joy Bhattacharya, Headmaster of Krishna Chandra High School Sri Chandan Maity, Sri Sujit Chakraborty  Chairman of Legislative Assembly of West Bengal, Srimati Debashree Ray, MLA of Raidighi etc. were present in the exhibition to motivate and  inspire the farmers & Mukti employees who worked hard to make this exhibition successful.
In a nutshell, the various events from the exhibition were as follows. Different organic vegetable models were exhibited and rural lifestyle models were made of natural items. The audience learnt about organic farming. The models on display were : Landless farmers, Use of "Malchin", Organic vegetables grown by Mukti farmers were placed, organic fertilizers, organic seeds, insect controls through machines, etc. 40 farmers were given Participatory Guarantee System (PGS) certificate for organic farming and three farmers were awarded as the best farmer of the year.
Blood donation camp and Thalassemia test which was organised by Diamond Harbour State hospital. 4 women and 16 men donated their blood on this specially day. 53 men & 102 women undertook for Thalassemia test. Dr. Alok Jaldata and Dr. Ruksana Islam Professor of Nutrition Department, Raidighi Sunderban College shared their views in the interactive session on "Health".
Eye testing camp was organised by "Social Development of Eye" (Kakhdip, Sultanpur). 65 people benefited from the camp. There were drawing, quiz & yoga competition for the children. There was a session on "Value education is missing in our present educational system" participated by intellectuals and common rural people. Srimati Debashree Roy gave a speech on human rights that the common people should be aware of.
Different cultural programs like dance from different states, songs, Baul Sangeet, etc. were the main attraction for the crowd. Mukti Community Development Fund (MCDF) women gave stalls on different items made by them like art & craft, jute and beads ornaments, incense sticks, bags, soft toys, etc. They were very happy to sell their product in large quantity.
The exhibition was a success as most of the visitors showed great interest in Mukti's work and pledged to support the development work rendered by Mukti.