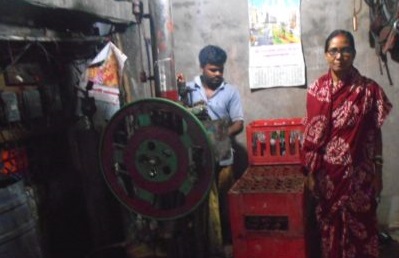 Story of a Successful Entrepreneur Mita Mondal
MITA MONDAL
Village and Post Office: Nagendrapur
Thana: Raidighi
District: 24 South Parganas
Mita is associated with MUKTI since February 2016. She took a loan of Rs.7000 for soda water making business on March 2016. Her association with MCDF proved to be successful, her awareness about Mukti increased. She is actively taking part in various MCDF meetings. Earlier she was a housewife and hardly ever got out of the house, thus her association with MCDF proved to uplift her confidence.
Earlier she used to do a business from outside resource and thus her income was a mere of Rs.1500 to Rs.2000. However, now, upon taking the loan from MCDF she is able to buy the machine herself and is able to establish the business successfully. Currently her monthly income is Rs.10000.
Her family consists of 4 members, her two daughters. The elder one is studying graduation, Bachelor of science, and younger daughter studies in class 6.
MCDF program has helped Mita to become a confident woman entrepreneur. Her success story is an example for other women of rural Self-Help group. Thanks to her social investor who lend the money to Mita to achieve this success. If you want to be a social investor and be part of this success story please visit MCDF program page and our donation page.