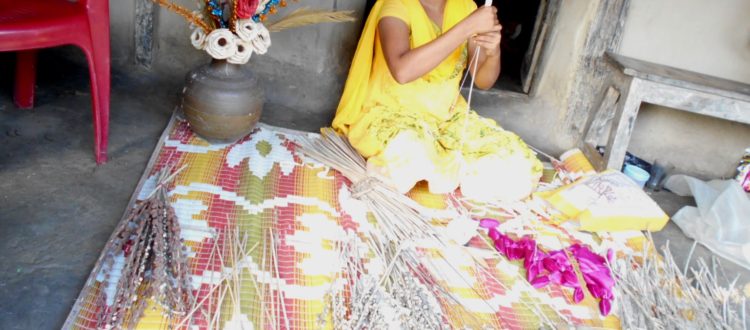 Self-sufficient entrepreneur Kakoli helping her parents
KAKOLI DAS
Village and Post Office: Nagendrapur
Thana: Raidighi
District: 24 South Parganas
Kakoli is associated with Mukti since February 2015. She took a loan of Rs.10000 from MCDF on February 2016. Upon her association with MCDF, she learnt 'Dry flower' making. She enthusiastically completed the training and showed great interest and expertise. Her parent's encouragement is mentionable. She got many customers too, who go to her home and collect the flowers she prepares. Her monthly income is Rs.3000 to Rs.3500.
Before taking the loan from MCDF, there was no such mentionable source of income; she used to do some minor tailoring work. Something to mention here, Kakoli is an expert in snake catching techniques; her father is also an expert in the same.
Upon her own enthusiasm, she got associated with MCDF and learned about the dry flower making, along with this she received a loan of Rs.10000 and immense support and encouragement from Mukti.
Her family consists of her father, mother one sister and a brother. Recently her sister got married. Kakoli's financial support to her family is a big support system for her parents.
MCDF program has helped Kakoli to become a confident woman entrepreneur. Her success story is an example for other women of rural Self-Help group. Thanks to her social investor who lend the money to Kakoli to achieve this success. If you want to be a social investor and be part of this success story please visit MCDF program page and our donation page.