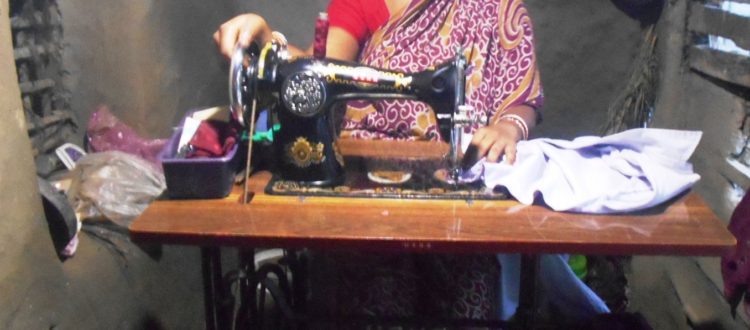 Sabita Halder become a self-sufficient entrepreneur
Sabita Haldar: 30 yrs.
Vill: Nagendrapur, District: South 24 Parganas.
Loan Taken for Agriculture
Loan Amount: ₹ 10000
Sabita lives with her husband and two school going son. They led a life of hardship, with financial constraints.  Upon learning about Mukti MCDF she approached for a self-sustaining occupation. She became a member of MCDF and procured a loan of ₹ 10000. She got into agriculture and leased a land for growing bitter gourd vegetable.  This fetched them a good amount of money, by which they were able to buy a tailoring machine, Sabita is now a tailor and earns ₹ 2,500 per month. Her family is really happy for her business as they are receiving benefits from it. MCDF not only empowered Sabita, but she is able to give the much-needed support to her family. Sabita is a strong woman and now she is encouraging other village folks to become self-sufficient.
MCDF program has helped Sabita to become a confident woman entrepreneur. Her success story is an example for other women of rural Self-Help group. Thanks to her social investor who lend the money to Sabita to achieve this success. If you want to be a social investor and be part of this success story please visit MCDF program page and our donation page.