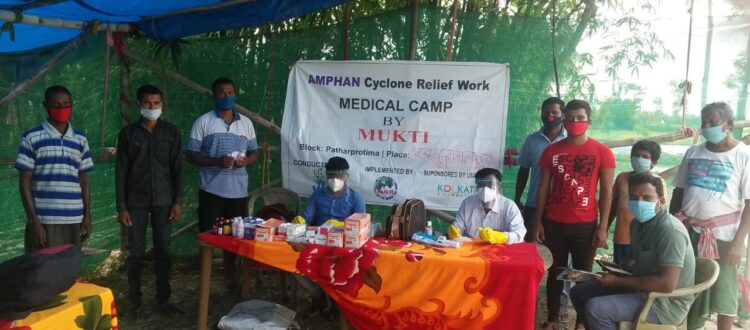 Rural Health Care Camps by Mukti in Sunderban
Mukti organized several health camps from last month health camps to fulfill the immediate healthcare requirements of the needy people, especially those affected by Amphan and living in the rural areas with limited accessibility. The present condition requires people to ensure timely diagnosis and care for them.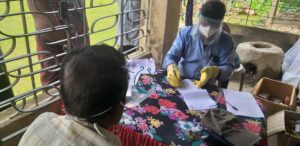 Before setting up camps, Mukti does an ample publicity around it and put up important health care information for people to create awareness among the masses. Patients were treated by doctors with great care and prescribed medicines according to their symptoms. Free medicine were distributed to them. Each camp was conducted by Mukti volunteers by maintaining the Covid -19 protocol.
Mukti is thankful to the donors, "Rural Health Care Foundation" and "Kolkata Foundation" to set such medical camps for the Amphan affected Sunderban.
Medical camp is an ongoing project of Mukti. Mukti will continue to organize such camps in coming days.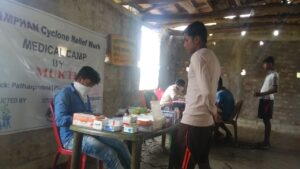 Village Name
Gram Panchayat
Block
Number of Patients Treated
Number of

Medicines

Bishalaxmipur

Basanti Para

Budhakahli
Namkhana
74
222
Baribhanga
Gilarchat
Mathurapur II
72
216
Herembogopalpu

Milan Pally

Herembogopalpur
Patharpratima
60
180
Herembogopalpu

Shubalay Pally

Herembogopalpur

Patharpratima
50
150
Herembogopalpu

Bishalakkhi Pally

Herembogopalpur
Patharpratima
93
279
Rathtala
Ghurghuria Bhubaneswari
Kultali
82
246
Daser Gheri
Ghurghuria Bhubaneswari
Kultali
51
153
Madhya

Ghurghuria

Ghurghuria Bhubaneswari
Kultali
56
168
8 villages
4 GPs
4 Blocks
538
1614