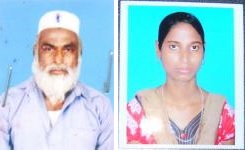 Shri. Lakman Molla, S/o Late Shri. Aqib Molla resident of Village & Post Bardanagar, P.S. Raidighi, 24 Paraganas (South), attended a Workshop on Right to Information Act organized by MUKTI, where he was made aware about his right to receive 'Old Age Pension'. He applied for the same with the help of MUKTI 'RTI Friends' after attending the said workshop. Presently, he is receiving 'Old Age Pension'.
He is grateful to MUKTI for their active support towards getting his legitimate right.
Smt. Ashima Baidya, D/o Shri. Mritunjoy Baidya, a permanent resident of Village: Jota Bardanagar, and P.S. Raidighi, 24 Paraganas (South). She used to receive Handicap Pension since 05-12-2009 from the Government, which for some unknown reason stopped from 20-02-2012. She ran from pillar to post to regularize her Handicap Pension, but to no avail.
Only after active intervention by MUKTI activists through Right to Information Act, she started receiving Handicap Pension again from 03-06-2013.