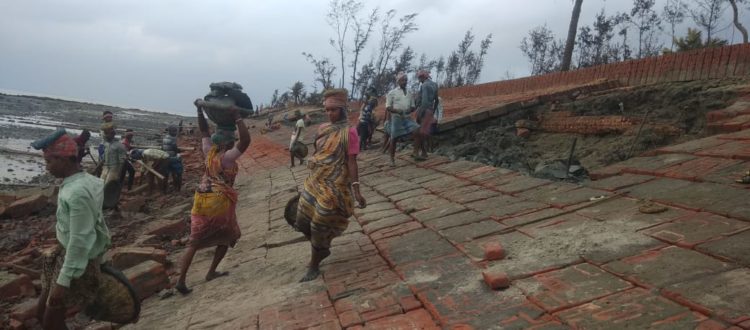 River Bund destructed by AMPHAN reconstructed by Mukti at G- Plot
The super cyclone Amphan, the biggest natural calamity to ever hit the West Bengal, tore through several districts on May 20, leaving a trail of death and enormous destruction. Originating in the Bay of Bengal, Amphan crashed upon the coastal belt of the West Bengal State near Sagar Island at a speed of 155-165 km per hour, with gust wind speed going up to 185 km per hour, along with very heavy rain, and proceeded on a trail of devastation through Kolkata on its journey into Bangladesh.
Being the epicenter of the cyclone, Sunderban is affected much, lakhs of homesteads broken, thousands of trees uprooted, infrastructure damaged, agricultural land and crops destroyed, ruining the lives of lakhs of people who were already in the face of a major financial crisis due to the nationwide lockdown. As Amphan made its landfall, gigantic waves could be seen crashing upon the coastline at Digha in Purbo Medinipur, and a large number of river bunds in the Sunderbans and the coastal districts broke down as water gushed forth submerging villages.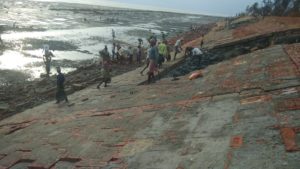 Along with the relief work Mukti is also trying to restore the damages caused by Amphan. Beside the river Hataniya – Dohaniya, at G- Plot Gram Panchayat, is a river bund which is 200 meter in length. It is made of mud and is pitched with bricks. The gigantic waves of the river crushed that brick wall and water flushed into the bund causing big holes at places of the bund. Local people joined hands with Mukti and they started rebuilding the bund. 50-60 workers are working among which 15 of them are women. To strengthen the bund, at first the holes will be filled by river bed mud itself then it will be pitched by brick. The bund is protecting the whole G- Plot area (25 km.) with 200- 300 families living around that place.