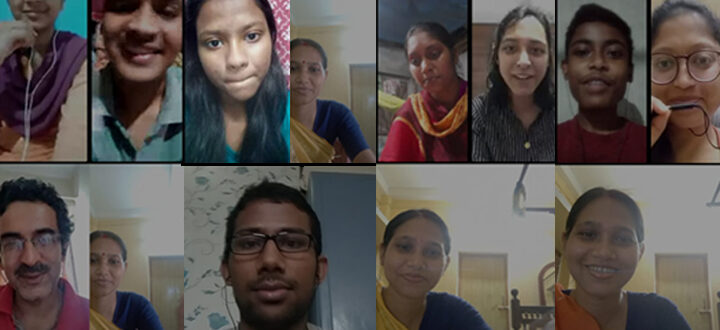 Mukti TSS Team Organized Various Virtual Sponsors – Student Meeting to Strengthen the Bond between the Two
Mukti has created opportunity for the Mukti TSS students and their sponsors to meet each other through virtual meeting during this pandemic situation when all the schools and colleges are closed. In this delicate time, such meetings will inspire the hope and confidence of the students and the pandemic will not be able to impact their tomorrow.
Mukti is honored of having such generous sponsors who not only assisting the students but also guiding them in their lives as a guardian.
               Mr. Sauvik Chakraborty with Supriya Neogi and Tukai Chakraborty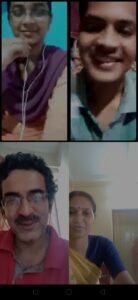 The first virtual meeting was held on 29th August'20 at 11 am between Mr. Chakraborty and his two sponsored students Supriya Neogi and Tukai Chakraborty.
Mr. Sauvik Chakraborty is associated with Mukti for a couple of years through the TSS project.
One of his sponsored students is Supriya Neogi who has appeared her final year in B.Sc. Nursing from "Sister Florence College of Nursing". She will start her internship in the next few days and will become alumni of TSS.
Another student, Tukai Chakraborty is pursuing B.Sc. Nursing 2nd year from "TCCN" (The Capitol College of Nursing) Bangalore, Karnataka.
Mr. Chakraborty was overwhelmed to meet both his students. Both were pursuing nursing courses and it was a great feeling supporting them.
During their discussion Mr. Chakraborty shared his own experience about how he has overcome all the challenges in his career and thus motivated them to achieve their aims. Mr. Chakraborty wanted to know about their other interests other than studies. He advised Tukai to attend online spoken English classes so that he can become confident in English. The students spoke to their donor for the first time and it was also the same for the donor. The meeting went very well.
Mr. Chakraborty assured continuity of his full hearted support and encouraged them to be good human beings.
Mr. Amir Hamja and Hemadri Dhara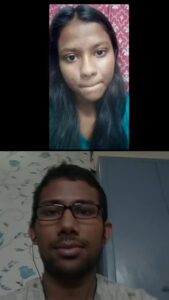 On 29th August'20, Mukti had organized another sponsor – student meeting between Mr. Amir Hamja and Hemadri Dhara. They had met each other last year.
This has been a proud moment for Mukti as Amir has been an alumni student of Mukti TSS project. He had received support from Mr.Snehomoy Bhattacharyya and completed his engineering course. Currently, he holds a good position in an MNC in Kolkata.
The vision of Mukti to instill the sense of social commitment among the sponsored students lies here when such a student came forward to support another deserving girl child. His sponsored student, Hemadri Dhara has been receiving support since last 1 year.
Hemadri has passed the Higher Secondary Examination in this year from "Garia Harimati Devi Uchcha Balika Vidyalaya" and scored 80%.She wishes to enroll in Physiology, and is also trying hard for the upcoming examination for G.N.M course or NEET. She dreams to pursue her career in nursing.
During the meeting, Mr. Hamja and Hemadri both discussed about their failure and success stories. The encouraging words of Mr. Amir Hamja made Hemadri to stand steady, to overcome all hurdles while achieving her goals. Hemadri expressed her gratitude to her well-wisher, Mr. Amir Hamji.
Mrs. Shayeree De and Sulekha Jatua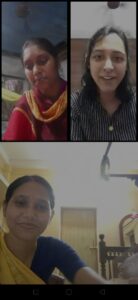 A virtual meeting was organized with sponsor Mrs. Shayeree De and her sponsored student Sulekha Jatua on 3rd September'20.
Mrs. Shayeree De has been associated with Mukti since last year through the TSS project and was keen to sponsor a girl student. Since then, she started sponsoring Sulekha Jatua, currently, a student of Std. XII of Krishna Chandrapur High School.
Sulekha lives with her parents at Damkal, Raidighi. But as her school is far from home so she has to stay in a rental house near to her school at Krishna Chandrapur. She aims to become an advocate to help the needy people who are victims of various legal issues and are unable to hire lawyers because of poor financial condition.
Mrs. De is quiet impressed about Sulekha that she will be there for her although her journey and will guide her as her mentor. While achieving her goal, there will be many hurdles, but success only embraces those who remains determined.
Mrs. De stays in Bangalore and is working in a MNC. She is very happy to be associated with this project. The assurance to be at her side whenever she needs made Sulekha remain steady in her path. Both of them enjoyed the conversation and Sulekha thanked and expressed her gratitude to Mrs. De for her support.
Mrs. Subhra Saha and Satyaki Maity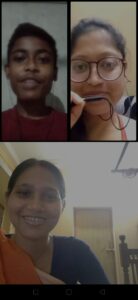 On 5th September'20 a virtual sponsor student meeting was held between Mrs. Subhra Saha and Satyaki Maity.
Mrs. Subhra Saha is one of the TSS sponsor and is associated with Mukti from last year. She hails from Kolkata and works in a MNC in Kolkata.
Satyaki is a student of Std. XII of "Paramanandapur Jagannath Institution". He is preparing himself for his upcoming HS examination in 2021.
Satyaki was eagerly waiting to have a conversation with his sponsor, Mrs. Subhra Saha. While talking with Mrs. Saha, Satyaki expressed his feeling that how much this meeting was needed for him and how he got great comfort.  He also expressed his gratitude to Mrs. Saha who is supporting him since last year.
Mrs. Saha encouraged Satyaki to go forward and achieve his aim. She assured him her full support and guidance till success comes to his door step.