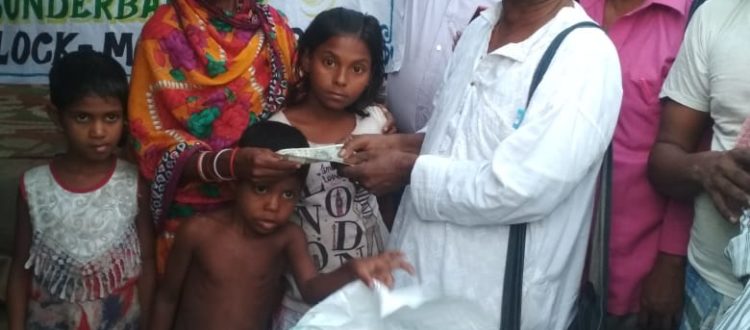 Mukti Stands beside the Three Distress Families of Deceased People
The Bulbul cyclone claimed 3 lives in the Uttar Kankandighi village of Kankandighi Gram Panchayat. On 10th November, 3 fishermen had gone for fishing in the Bay of Bengal and had hoped to come back by evening. The catch was not sufficient for the day and they had continued in the sea and were caught in the terrifying storm when their boat capsized. The body of Lutfar Mir (40) was found on 12th November, but the other two, Mahendra Biswas (35) and Renupada Mudi (50) went missing till 14th
The livelihood of Lutfar, Mahendra and Renupada depended on fishing solely and they were the  sole earners in their family. After the news of their missing came out, Mukti staffs had immediately rushed to the spot to give mental support to their family members.
Lutfar is survived by his wife, 2 daughters and a son who are very young, Mahendra is survived by his wife and 2 daughters and Renupada is survived by his wife, son and daughter-in-law.
All the 3 families are in complete distress after this incident.
Mukti has supported with 25 kgs of rice, 10 kgs of potatoes, 5 kgs of pulses and cash of Rs.1000/- to each of the bereaved families.
The children in the families have been assured educational support from Mukti through the ongoing projects. More support is required to meet the basic needs like clothing and food. The cash support by Mukti is required to be continued for few more months till they are able to find some alternate source of livelihood.
We appeal for your support for these orphaned families.
Donate Now!