Mukti Sponsored Packaged Food and Commodity at Sheoraphuli
Kolkata Anandam is a renowned NGO working for more than a decade, for child and needy community of society. They organized a relief distribution program at Sheoraphuli on 1st September 2020. Mukti sponsored the relief program with packaged food and commodity. The food packages were distributed to 141 beneficiaries.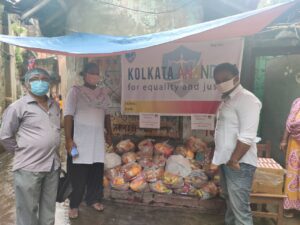 At the place of distribution Mukti TCS volunteers, Mr Subhankar Das and Mr Rabin Saha were present to conduct the whole program. Under their supervision the event became so successful that not only the beneficiaries but also the organizer were pleased.  Mr. Subrata Bhowmik, Mr Swapan Halder and Mrs. Ankita Kothiyal supported remotely from their respective work locations.
The grocery kit contained 3 Soaps, 1 Mask, 1 Packet Napkin, 2 Packets Go Mo, 4 Packet Biscuits, 1 Kg. Chilli, 1 Kg. Coriander powder, 1 Kg. Turmeric, 250 Gram Soybean, 250 Gram Daal, 500 Gram Oil and 500 Gram Chana.
The Mukti team represented by Mr. Robin Saha and Mr. Subhankar Das acknowledged the hospitality and courtesy extended to them by Kolkata Anandam.