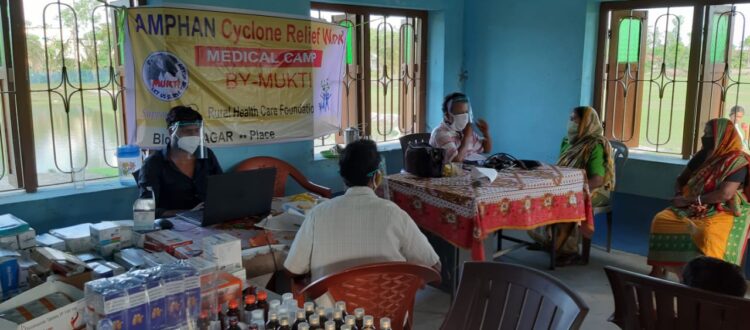 Mukti Served the Amphan Victims through Various Medical Camps at Sunderban
During the aftermath of the cyclone Amphan, Mukti conducted several free medical camps since last three months, in various areas of Sunderban for the affected people there.310days of medical camps were conducted in 10 different blocks to treat 27, 516 patients of Sunderban.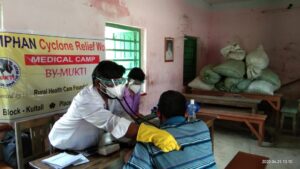 The free mobile healthcare services of Mukti were equipped with one doctor and two medical staffs who were trained to recognize symptoms of health related ailments, conduct basic diagnosis of common diseases, such as weakness, viral fever, joint pain, cough, gastritis, ear infection, dental infection and many more, prescribe medication and referrals to specialized doctors, through tele-medicine service in case of further medical complications.
In many of the villages under these blocks, the camps were conducted repeatedly twice or thrice on demand of the villagers. People are coming from far away areas to these camps for consultation.
Medical records were created and kept for all patients examined at the camps. A note of presenting complaints, provisional diagnosis as well as medicine prescribed and intervention done were recorded.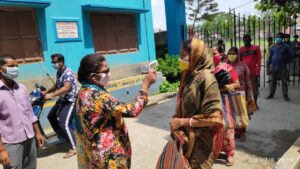 Mukti followed all the safety regulators and protocols necessary to prevent the spread of Corona Virus. While caring for the patients came for treatment, apart from checking temperature, masks are also being distributed and they were advised to maintain social distancing for their own safety.
Mukti volunteers, doctors, medical staffs along with the donors "Rural Health Care Foundation" and "Kolkata Foundation" have done a remarkable job in serving the poor and needy.
Mukti is grateful to "Rural Health care Foundation" and "Kolkata Foundation" for their contribution in care of the vulnerable of Amphan.
| | | |
| --- | --- | --- |
| Blocks name | Number of camps | Total Patients |
| Mathurapur II | 41 | 3632 |
| Kultali | 30 | 2310 |
| Kakdwip | 26 | 2126 |
| Patharpratima | 21 | 1523 |
| Sagar | 37 | 3316 |
| Namkhana | 40 | 3314 |
| Hinjalgunj | 31 | 2255 |
| Jaynagar I | 32 | 2777 |
| Jaynagar II | 22 | 1948 |
| Mathurapur I | 30 | 4315 |
| 10 Blocks | 310 | 27,516 |