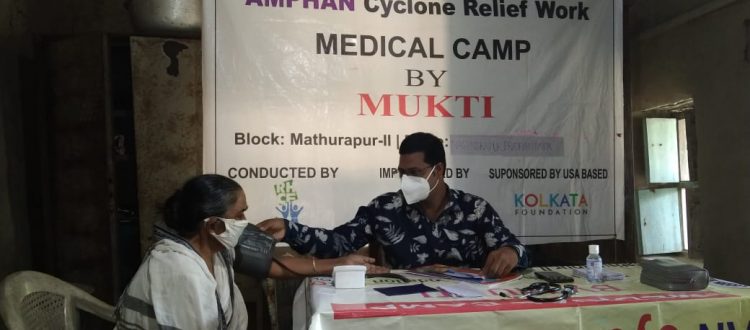 Mukti Medical Camps are Operative to Combat Disease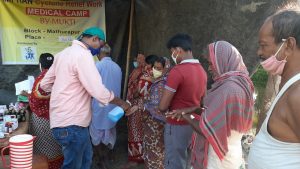 Concern for rural health has made Mukti to continue medical camps in this week also. After curing 8846 most vulnerable and deprived patient, medical camps of Mukti will continue their journey for the coming weeks also.
Mukti volunteers, doctors, medical staffs and our respected supporters "Rural Health Care Foundation" and "Kolkata Foundation" are working spontaneously while challenging their own safety during this pandemic situation to build, improve and sustain health care to the needy communities.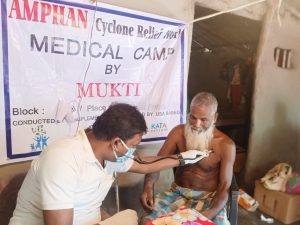 A brief report of the camps conducted by Mukti, this week
| | | | |
| --- | --- | --- | --- |
| Village Name | Gram Panchayat | Block | Number of Patients |
| Kusumtala | Mousuni | Namkhana | 92 |
| Bagdanga | Mousuni | Namkhana | 93 |
| Budhakhali | Budhakhali | Namkhana | 159 |
| Samonterchak | Swami Vivekananda | Kakdwip | 83 |
| Uttar Haripur | Swami Vivekananda | Kakdwip | 98 |
| Satishnagar | Swami Vivekananda | Kakdwip | 100 |
| Baliyara | Mousuni | Kakdwip | 116 |
| Hriday Market | Sri Sri Ramkrishna | Kakdwip | 95 |
| Uttar Haradhanpur | Sumatinagar II | Sagar | 62 |
| Shibpur | Muriganga I | Sagar | 77 |
| Chamaguri Doloi Para | Dhablat | Sagar | 71 |
| Sonakhali Kadamara Para | Ramchandrakhali | Basanti | 148 |
| Nirdesh khali | Fulmalancho | Basanti | 108 |
| Jogeshganj | Jogeshganj | Hingalganj | 55 |
| Uttor Malekan Ghumti | Malekan Ghumti | Hingalganj | 60 |
| Paschim Kalitala | Kalitala | Hingalganj | 75 |
| Purba Malekan Ghumti | Gobinda Khati | Hingalganj | 65 |
| Madhya Para | Gobinda Kati | Hingalganj | 65 |
| North Gobinda Kati | Gobinda Kati | Hingalganj | 70 |
| South Gobinda Kati | Gobinda Kati | HIngalganj | 65 |
| Dakshin Malekan Ghumti | Gobinda Kati | Hingalganj | 70 |
| Madhya Para | Gobinda Kati | Hingalganj | 142 |
| Mondal Para | Gobinda Kati | Hingalganj | 78 |
| Baidya Para | Gobinda Kati | Hingalganj | 82 |
| Mali Para | Gobinda kati | Hingalganj | 65 |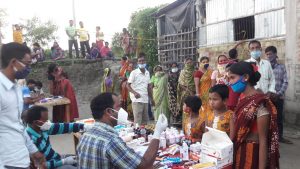 | | | | |
| --- | --- | --- | --- |
| Maheshpukur | Nalua | Mathurapur I | 131 |
| Nalua Pachim Para | Nalua | Mathurapur I | 131 |
| Kharbati | Nalua | Mathurapur I | 123 |
| Dakaitmara | Krishnachandrapur | Mathurapur I | 140 |
| Chandpasha | Krishnachandrapur | Mathurapur I | 146 |
| Andhamunitala | Krishnachandrapur | Mathurapur I | 111 |
| Arjuntala | Krishnachandrapur | Mathurapur I | 122 |
| Santasnagar | Debipur | Mathurapur I | 124 |
| Mirjapur | Debipur | Mathurapur I | 117 |
| Chandipur | Debipur | Mathurapur I | 121 |
| Damkal Mondal Para | Nagendrpur | Mathurapur II | 107 |
| Nagendrapur (Pradhanpara) | Nagendrapur | Mathurapur II | 97 |
| Nagendrapur (Paschim Para) | Nagendrapur | Mathurapur II | 129 |
| Nagendrapur (Christan Para) | Nagendrapur | Mathurapur II | 96 |
| Khari( kalikapur) | Gilarchat | Mathurapur II | 101 |
| Bamunerchak | Raidighi | Mathurapur II | 61 |
| Jagannath chak | Raidighi | Mathurapur II | 75 |
| Mondalpara | Raidighi | Mathurapur II | 91 |
| Raymanikhaki | Raidighi | Mathurapur II | 97 |
| Karalirchak | Raidighi | Mathurapur II | 80 |
| Purbajata | Kankandighi | Mathurapur II | 121 |
| Dakshin Kashinagar(Naiya Para) | Herambogopalpur | Patharpratima | 121 |
| Kuemuri (Narayanipally) | Herambogopalpur | Patharpratima | 78 |
| Rakhalpur (1700 Ghari) | Rakhalpur | Patharpratima | 94 |
| Digambarpur (3 No Gheri) | Digambarpur | Patharpratima | 101 |
| 50 | 20 GPs | 8 Blocks | 4909 |