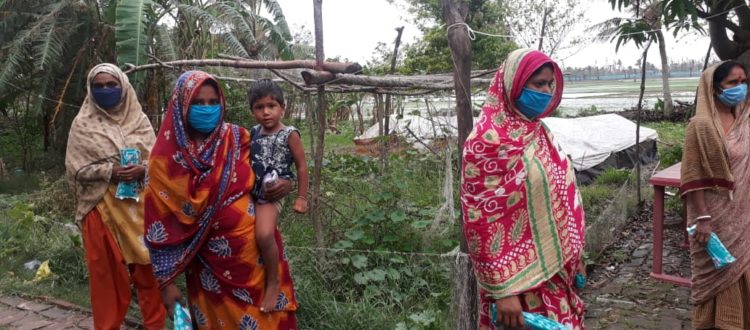 Mukti Distribute Sanitary Products for Women Hygiene at Radhakantapur and Patharprotima
Amphan, the cyclonic storm that hit Sundarbans, the densely populated delta have claimed thousands of lives and displaced several thousands. The storm's impact was devastating for the millions who live in the Sundarbans. Mud homes were swept away, embankments were destroyed and farms were inundated by saline water that made them unfit for cultivation.
The cyclone destroyed dozens of pipelines that used to supply drinking water to the islands surrounded by rivers fed with saline tidal water from the sea. Salt water from these rivers has gushed into the villages through breaches in the embankments filling up the sweet water ponds and hundreds of tube wells still remain submerged in saline water even a month after the calamity. There is a strong need of clean water all over Sundarban.
Clean water, decent toilets and good hygiene are basic means for a menstrual woman. Every person – male or female should be aware of the diseases which a woman can suffer from if a woman does not have access to menstrual hygiene products. The issue can increase a woman's chances of contracting cervical cancer, reproductive tract Infections, Hepatitis B infection, various types of yeast infections and urinary tract infection, to name a few.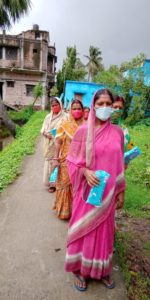 Mukti, which has a wide network of volunteers, including a strong women group, engaged them to distribute sanitary napkins and to make them understand the importance of menstrual hygiene to the Amphan affected adolescence girls and women. Women of 3 villages at Radhakantapur under Mathurapur Block II and women of Herembogopalpur under Patharprotima Block got benefitted through this program of Mukti.
Under Radhakantapur Gram Panchayat Mukti distributed 250 napkins at Katlapara, 262 napkins at Naluya and 250 napkins at Nolpukur and at Herembogopalpur Mukti distributed 500 napkins.
Mukti is helping the Amphan victims by every means.