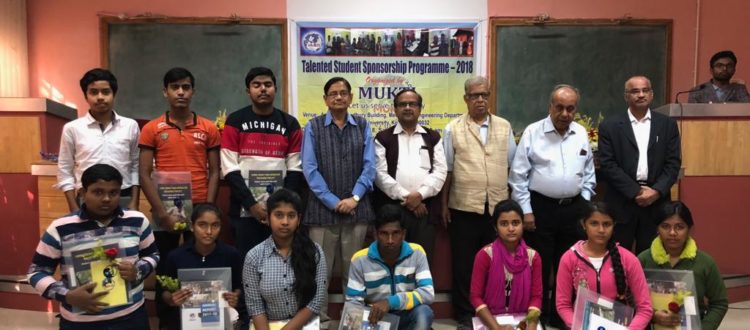 MUKTI Announces 13th Batch of TSS Scholarship 2018
MUKTI organized the 13th year of the Talented Student Sponsorship Annual Programme on 8th December 2018. This year was another successful leap for the Mukti team for welcoming the selected students for sponsorship by patrons and eminent sponsors. The programme was organised at the seminar hall of the Mechanical Engineering department of Jadavpur University.
The event was inaugurated by Dr. Mohit Roy, environmental and human rights activist; Prof. Gautam Majumdar, Head of the Department of Mechanical Engineering of Jadavpur University; Mr. Basant Kumar Nayak, Deputy General manager and Regional Head of National Insurance Company Limited; Prof.Samar Mondol, Professor of Mechanical Engineering Department of Jadavpur University; Dr. Samir Dutta, Ex-President of Mukti Australia and Dr. S.K.Bagchi, Sponsor of TSS.   Among other guests, Prof.Tarun Kanti Naskar, Ex-Professor of Jadavpur University; Mr. Niladri Nath Bagchi, Volunteer and TSS Sponsor; Mr. Madhusadan Bairagi and Mr.Biswanath Mondol, Advisory members of Mukti were also present in the programme.
A total of 117 students have been confirmed for sponsorship for the year 2018-19 in recognition of their merit and determination in the face of economic hardship. 20 new students – Science 1, Engineering 1, Medical 1 and General category 14 students and 97 continuing students – Science 38, Engineering 13, Medical 20 and in General category 26 students were selected and felicitated for sponsorship for the current year.
Students from the alumni were actively involved in this programme. Few students from the alumni and continuing batch shared about their association with Mukti and their experience of being supported by their sponsors. The programme was also attended by volunteers and other sponsors of Mukti.
Mr. Asis Halder, Secretary welcomed the guests, students and the guardians and gave the inaugural speech. The program ended with thanksgiving by Founder-President, Mr.Sankar Halder and with an appeal to continue TSS's successful journey for the coming years.