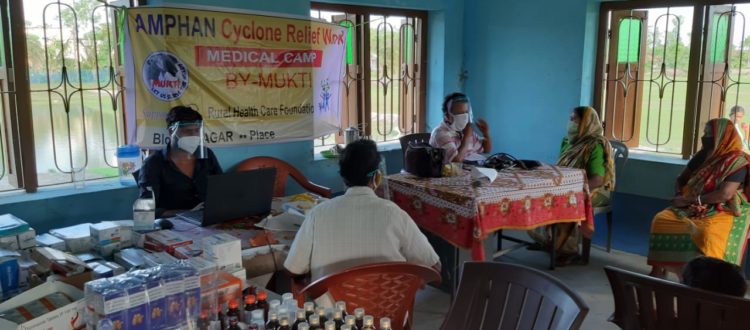 Medical Camps are conducted by Mukti in care of the Amphan Victims
Mukti's relief efforts specially aim at restoring the lives of those affected by cyclone Amphan, including that of people with disabilities as well as poor and marginalized people, members of belonging to scheduled castes and tribes, women headed households, older people and pregnant and lactating mothers.
Mukti's humanitarian response will primarily focus on health, early recovery; of the Amphan victims. Focusing on aim Mukti in association with "Rural Health Care Foundation" conducted several medical camps throughout Sunderban. In each camp there is a doctor and one compounder to take care of the patients.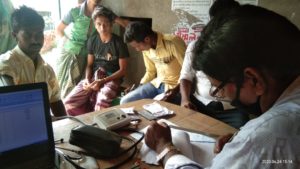 Mukti conducted a medical camp at Deulbari under Kultali block where Dr. Balmani Pandey diagnosis 108 patients.
At purnachandrapur under Srirampur Gram Panchayat, Dr. Bimal Ghorai treated 77 patients.
Dr. Prasanta Kumar Mondal provided necessary medicines to 93 patients of Purusottampur village under Sagar Block.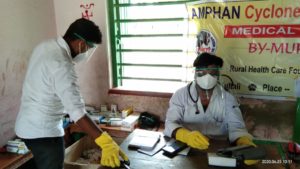 Dr. Manik Bera distributed medicines to 100 patients of Radhakantapur village under Mathurapur Block II.
At Purba Surendranagar village under Herembogopalpur Block and Pataharpratima Police Station 85 patients got treated by Dr. Bimal Ghorai.
103 patients of Halder Gheri village under Ghurghuria Bhuwaneswari Gram Panchayat and Kultali Block got benefitted from Dr. Balmani Pandey.
Medical camp was conducted by Dr. Prasanta Kumar Mondal to treart 89 patients at Gangasagar village under Gangasagar Gram Panchayat.