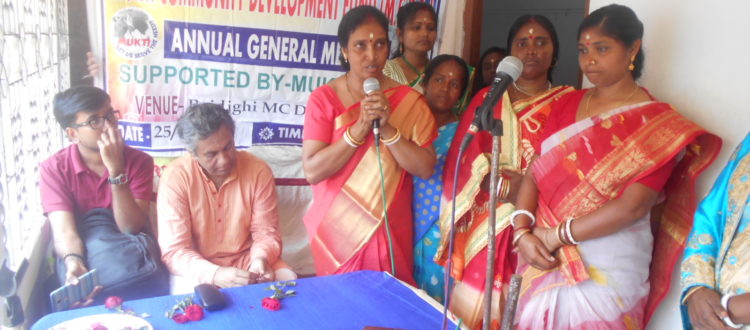 MCDF Annual General Meeting 2019 at Raidighi Branch
MCDF Annual General Meeting 2019 at Raidighi Branch
On 25th March, 2019 Mukti organized the third MCDF Annual General Meeting at Raidighi branch. The programme took place at Raidighi office in Moyrapara, where Mukti board members Mr. Somnath Mukherjee, Mr. Partha and Mr. Debabrata Haldar were present as chief guests. The presidents, secretaries, treasurers, managers and accountants of MCDF from the branches at Purbosridharpur, Kultali, Sonatikari, Radhakantapur and Heremba-Gopalpur, and Raidighi all attended this meeting, along with 135  group leaders.
Addressing the gathering, Mr. Raghunath Bairagi (project-lead for MCDF) explained the need for Self-Help groups, elaborated on how to form and operate a perfect self-help group and ways to establish good coordination among the members in the group. Opinions and views, especially regarding last year's performance, were discussed by the members. Finally, the old committee was dissolved, and the new committee with eight members was introduced. The new members are:
Tanima Mandal, Mamata Mandal, Tamashi Roy, Sharmila Mandal, Promila Haldar, Purnima Mallik, Ranu Samanta and Mousumi Karmakar.
The meeting was concluded with an award ceremony where MCDF (Raidighi branch) friends distributed prizes to those who had helped in forming a large number of Self Help Groups.
For photos please visit:
https://muktiweb.org/gallery/album/mcdf-annual-general-meeting-2019-at-raidighi-branch