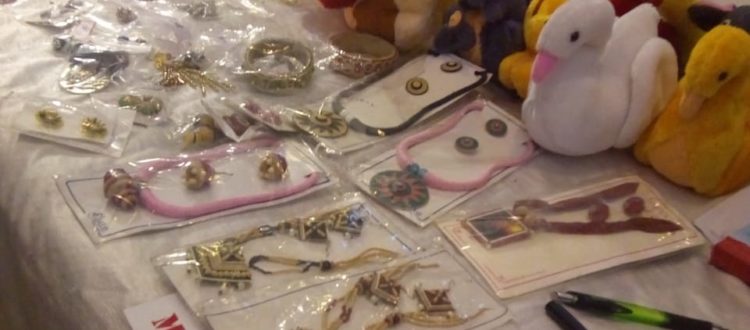 FIRST HANDLOOM EXHIBITION BY MUKTI CRAFTS
A three day handicrafts exhibition concluded at the Ecospace Kolkata, here on Friday 7th September. The exhibition was organized by Link UP and sponsored by T2, Tuk Tak, Ambuja Neotia group and CSR. 12 Self help group artisans/ craftsmen from various parts of Santiniketan and Bolpur along with MUKTI CRAFTS from Jatragachi put on display their products.
The objective of the exhibition was to preserve and promote traditional handicrafts for sustainable livelihoods of the poor and marginalized people.
MUKTI CRAFTS displayed their hand-made products of jute, along with junk jewelries and soft toys made by rural women from Mukti Community Development Fund. The exhibition also saw the display of ethnic traditional handloom sarees, kurtis, shawls, churnis, junk jewelries, jute work and embroidery work.
At least 20 members of MUKTI CRAFTS were trained to procure junk jewelries and make hand–made products like various soft toys and jute items. These women are home-based workers living in Jatragachi, New Town area and they are being exploited by the middlemen because they have no or limited linkages with big markets to sell their products.
Speaking of the exhibition, all the visitors said this is a great event to showcase handmade products. Link Up and organizing members praised MUKTI CRAFTS. They said that among all the 12 stalls MUKTI CRAFTS is a unique one. It is wonderful to see that NO PROFIT; NO LOSS is model followed and instead of the beneficiaries coming to sell the products, MUKTI itself has organized to sell the handmade products which is remarkable. MUKTI's this initiative was praised and exhibitors expressed willingness to invite Mukti Craft for the future exhibitions.