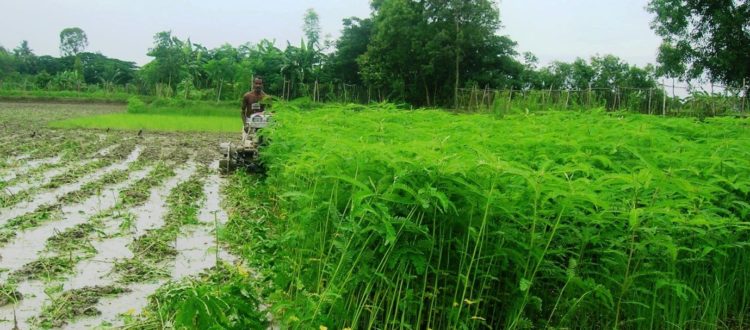 A success story of organic farming
Name: Lakshmi Kanta Sardar
Village and Post Office: Purbo Sridharpur
Thana: Raidighi
District: 24 South Parganas.
Lakshmi Kanta Sardar's occupation is farming. He owns 5 Bigha of farming land. However, upon getting associated with Mukti family, and their guidance, Lakshmi Kanta learnt about organic agriculture, primarily 'Dhonchey'. He now grows rice crop for his entire share of land. He even learnt the usage of power tiller for more effective means of farming. He is very happy with the guidance and his association with Mukti foundation. He is able to sustain his big family with upgraded farming techniques.
With the help of other NGO's MUKTI regularly conducts training organic farming techniques. This is MUKTI's aim to build a strong knowledge-base on organic farming and sustainable agriculture techniques among needy farmers of India. You can also be part of that by sponsoring such training. Visit our donation page for more details.