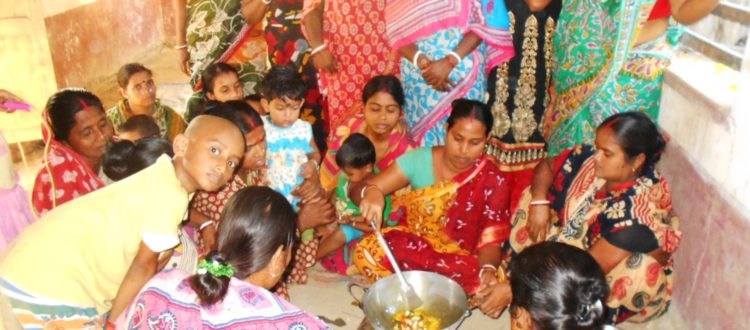 Pickle making training by MCDF
Since 2011 Mukti Community Development Fund (MCDF) enabled numerous rural women to become economically independent as they acquired skills of various cottage industry techniques.
Keeping this vision in mind, on 31st Oct 2017 in Raidighi Branch Shankar Gheri, at Draupadi Halder's house, a pickle making training workshop was scheduled for the local rural women. This workshop was executed by trainer Bharati Hazra, who is a skillful teacher; she successfully translated the art of pickle making. In this 6-day workshop, recipes for pickles made of various fruits and vegetables such as Mango, Guava, Tomato, 'Chaalta', 'Kuul', Tamarind etc. were taught. Upon receiving this training, a group of attendees of the training all decided to pursue this profession of pickle making and become self-independent.
In MCDF skill trainer Mr. Jatua's opinion, if any woman is able to successfully translate the knowledge of pickle making into a home business, then one will be easily able to earn Rs. 2000 to Rs. 3000 per month. From MCDF we send our heartfelt good wishes and warm vibes of encouragement to all the participants, to promise them a brighter economically viable life ahead.