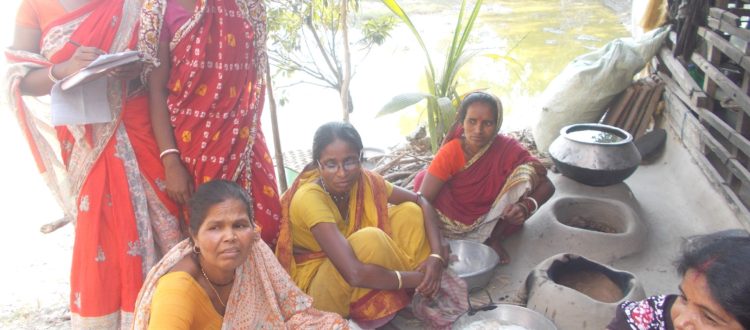 Pickle and Bori making training by MCDF
MCDF (Mukti Community Development Fund) has organized an apprenticeship program on pickle and Bori making at Nagendrapur region of Sunderban. This program is running a wide range of creative learning courses aimed at women empowerment to develop women entrepreneurs in rural India. This 6-day long training program took place during 27th Feb to 6th March. MUKTI's objective is to make rural life in Sunderban area more sustainable through women's employment that can suffice the additional needs of every household. The training was attended by 20 SHG members from Purba Sridharpur branch. This training was conducted by Ms. Bharati Hazra who is also a SHG member of MCDF. The trainees acquired practical knowledge on making Bori and Pickle of different types which in future may help them supplement their earnings.  The varieties of pickles demonstrated included delicious Jujube pickle, Sweet and sour mango pickle, Tamarind pickle, Mixed Veg pickle, etc.  Apart from that they learnt Kumro Bori, Biuli Bori, Khasari bori, Musur Bori etc. Training was also given to keep these food items fresh and consumable for longer periods. Ms. Hazra advised to use sodium benzoate and Pectin powder in proper ratio for food preservation.
There is no doubt that a huge potential market is waiting all over the India for these food items, but they need proper promotion. The trainer also advised to maintain the quality of the product as well as it's packaging. Pickles and Bori is consumed by most Bengali people on daily basis, so if the production continues on regular basis, it can be a profitable business. The ability to sell their own products directly to customers may attract better profit margins for the village people and might encourage mass production of some items in future.
.