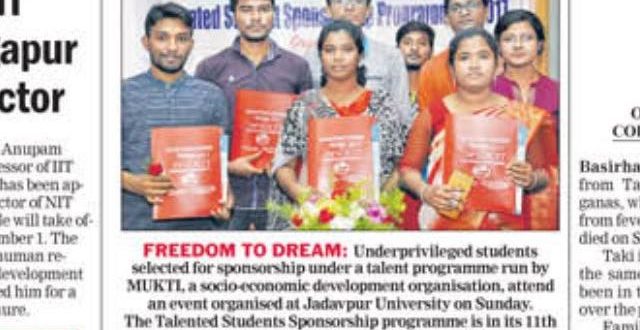 MUKTI Announces 11th Batch of TSS Scholarship
MUKTI organized the 11th year of the Talented Student Sponsorship Annual Programme on 26th November'2017. This year was another successful leap for the MUKTI team for welcoming the selected students for sponsorship by various patrons and eminent sponsors. The programme was conducted at the seminar hall of the Mechanical Engineering department of Jadavpur University.
The programme was inaugurated by Prof. Ashok Basu, ex-Vice Chancellor of Jadavpur University, Mr. Tarun Naskar, Ex MLA, Prof. Dulal Mondol, Assistant Secretary of Mukti, Dr.Saumeyendra Bagchi, TSS Sponsor with MUKTI Announces 11th Batch of TSS Scholarship and Mr. Niladri Nath Bagchi (Volunteer and Sponsor with MUKTI Announces 11th Batch of TSS Scholarship). Prof. Basu along with other guests felicitated the students and encouraged them to study hard. He also wished MUKTI for this successful endeavor to help the needy.
A total of 129 students including the continuing batch of students have been confirmed for sponsorship in the year 2017-18 in recognition of their merit and determination in the face hardship. Thus, almost 450 students have been benefitted from this programme. Every year, MUKTI provides sponsorship to students from the various districts of West Bengal in general, science, engineering and MBBS category. of economic
Students from the alumni were actively involved in this programme. Few students from the alumni and continuing batch shared about their association with MUKTI and their experience of being supported by various sponsors throughout the globe. Eminent visitors in the programme showed interest in sponsoring other students.
The programme starting from student selection, sponsor mapping, programme conduct is managed by Alumnus of TSS programme. In last 11 years many talented students are established into there life in various field like Medical, Multi national companies, teaching etc.
The programme is life story of MUKTI founder Mr Sankar Halder, completed MCA from Jadavpur university with a sponsored financial support. Once he got established into life started the programme with sponsoring talented but financial challenged student and motivating them to work for society once get settle in life.
Finally, the program ended with vote of thanks by President Shri Sankar Halder and with an appeal to continue TSS's successful journey for the coming years.