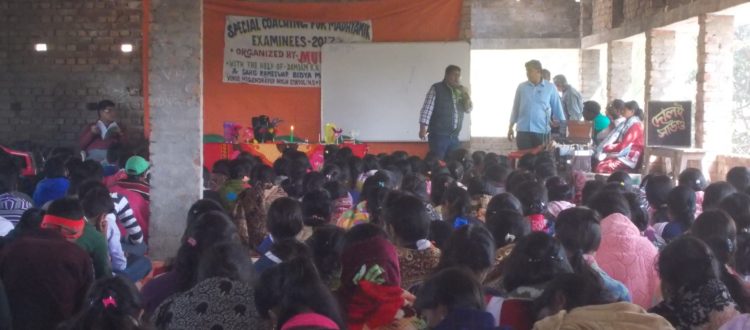 MUKTI's special coaching programme for 2017 Madhyamik candidates
Like every year MUKTI organized special coaching programme for 2017 Madhyamik candidates at Jata Nagendrapur High School on 22nd and 23rd January 2017. The programme was conducted by the teachers of DumDum K.K. Hindu Academy.
On the 1st day the programme was started at 8 am with the inauguration song performed by the school students in presence of all the MUKTI coaching centre's teachers, DumDum K.K. Academy's teachers and MUKTI members and the examinees. After that the honourable president of MUKTI Mr. Sankar Halder delivered his valuable speech, followed by coaching centre chief co-ordinator Bipradas Jatua's short speech. 210 students including 112 girls turned up in the class. One pen & one note book was provided to every student. After 2 periods for life science & English classes the lunch break was announced. After the lunch break special coaching was provided for physical science and geography. The 1st day's classes ended at 4.30 pm.
The 2nd day's programme started at 8 am with national flag hosting and garlanding of the picture of Netaji Subhash Chandra Bose. Then Mr. Paritosh Kayal, teacher of Dum Dum K.K. Academy delivered his short speech to inspire and motivate the students. The whole-day program was facilitated by experienced and renowned teachers from Dumdum KK Hindu Academy, and was aimed at enhancing the students' capacity to write the upcoming board examinations. Apart from the seven external teachers, there were teachers from MUKTI's coaching centre who helped to conduct the session successfully.
In this special coaching program, the teachers provided important notes on different subjects to the participants. The teachers also guided the students in avoiding common mistakes in the examination hall. Moreover, they gave guidance about time management skills during the exam and mentored the students about prioritization of questions to score better marks in exams. This special coaching boosted the candidates' spirits and motivated them in their exam preparations.