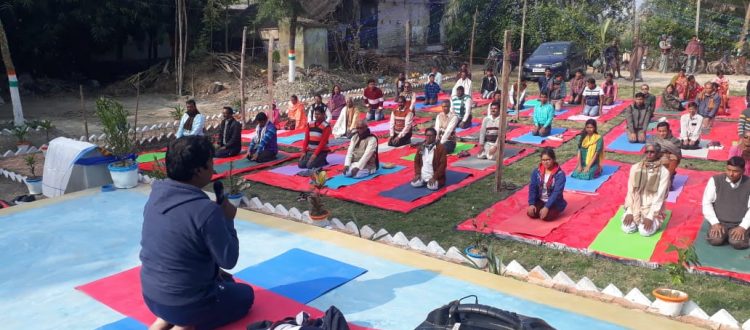 Yoga and Meditation Session of Mukti on "Sankalpa Diwas" 2022
The celebration of the "Sankalpa Diwas", 2022 started with Yoga Session at 8 am. . It was held at the Uttahanpada Smriti Mancha ground, Purba Sridharpur where more than 100 people from children to senior citizens participated. The session was conducted by Mr. Sankar Halder- Founder – President of Mukti.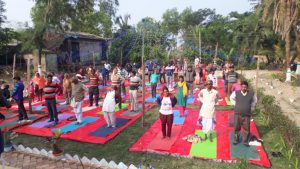 The educated and privileged section of the society can easily access yoga camps and yoga studios to get the benefits of this ancient practice whereas the real challenge is to spread awareness about yoga among the marginalized. Mukti exactly decided to do that. Mukti thinks that Yoga must be included as an important part of the education plan. Mukti is confident that not only will the children benefit from yoga but will also retain the values of discipline and healthy living. It will also develop a person's overall personality. What day could have been better than the day of Sankalpa Diwas as the beginning of this effort?
Mr. Halder taught them yoga asanas, breathing exercises and meditation. The exercises can reduce stress levels, obesity, hypertension, diabetes, joint pains etc.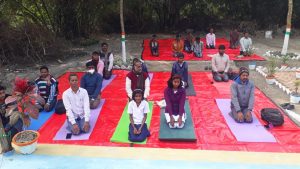 While explaining the utility of Yoga he said," Covid-19 Pandemic has forced us to do work digitally from home. We are not able to go out and exercise, so the incidence of various diseases is increasing, though exercise is important to stay healthy. Second, we are now mentally exhausted. It is equally important to keep the mind organized so that we do not suffer from this exhaustion. Meditation can help us a lot to keep the mind healthy. Yoga is a science and is a part of hope and game. Even if one practices Yoga regularly in the guise of playing, he will improve his physical and health and will indirectly help in building a healthy society. That is the goal and purpose of Mukti".