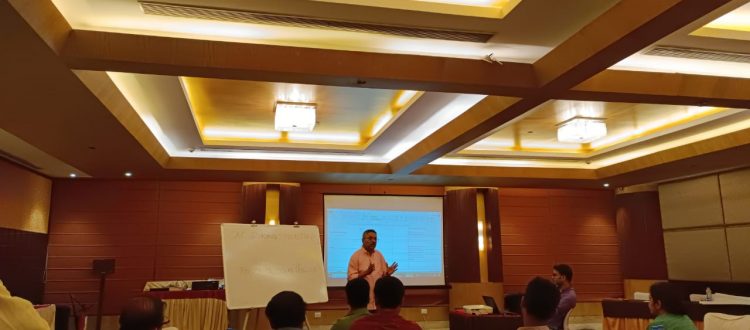 Workshop on Organizational Child Safeguarding Policy Making Process and Implementation Strategies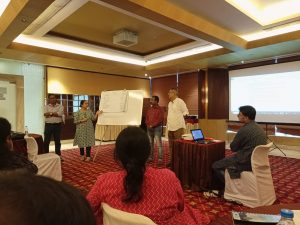 Mukti had participated in a 3 days' workshop from 29th to 31st August 2022, on organizational child safeguarding policy making process and implementation strategies at Regenta Orkos, Kasba, Kolkata.  Prajaak – partner of "OAK Foundation" and Headways conducted the program. On behalf of Mukti –  Mrs. Monami Mitra – Mukti HR, Mrs. Srijita Sarkar – Mukti Education Lead, Mr. Somitra Bose – Operations Director, Mr. Bimal Khan – Project coordinator of Mukti Support School, Mrs. Pampa Karmakar – Project Coordinator Talented Student Sponsorship and Ms. Nandita Jayraman – Program Manager – Rights & Awareness had participated in the workshop.
The workshop was on discussing the policies each participating organization has in child safeguarding and how to develop it. Also the organizations that do not have this policy how can they implement it? Since Mukti did not have a child safeguarding policy but an HR policy, some changes were needed and Mukti spontaneously participated in the workshop to gain knowledge about the said policy.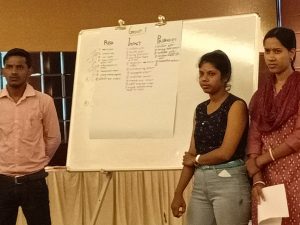 On the first day of the workshop, a perspective building or orientation session was conducted on the issues that need to be known in making policies on safeguarding. In the first day session, the participants were taught how to do risk analysis or risk assessment. Since Mukti has a lot of exposure to children (Education Project and ACV), what kind of risk (risk for the organization, infrastructure risk, program activity-related risk) can be involved in working in these areas and what kind of impact they can have on children had been explained. Every individual participant did a mapping or a listing of the likely risk factors that they may have to encounter while working.
Prioritizing risk factors by understanding their importance was taught through exercises in the second-day session. It had been explained what initiatives can be taken to mitigate these risk factors. If these two can be linked, it will be possible to determine the code of conduct, guidelines (for the employees, criteria for hiring infrastructure, program-related survey or volunteer engagement) of the organization. Participants were asked to map out the risks and their mitigations according to the organization wise. All the participants of Mukti together by sharing their inputs tried to make a plan.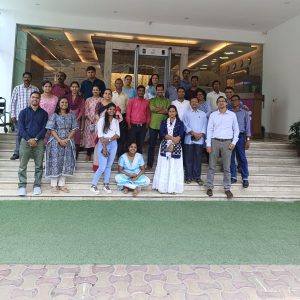 The topic of discussion on the third day was how to reform the reporting process. For example – after safeguarding, if any incident occurs that violates or challenges the safeguarding policy, how the reporting process can be designed, how many vocal persons will be there, how the committee will be formed, case management, counseling, what disciplinary action or redresses the organization will take against any kind of nondisciplinary or illegal activities of employees or volunteers. Planning to maintain the entire process was the third and last day's activity.
Mukti has several elements such as risk assessment data, there is an orientation of how the policy will be made and with the help of these very soon Mukti will make a policy of safeguarding on its own.