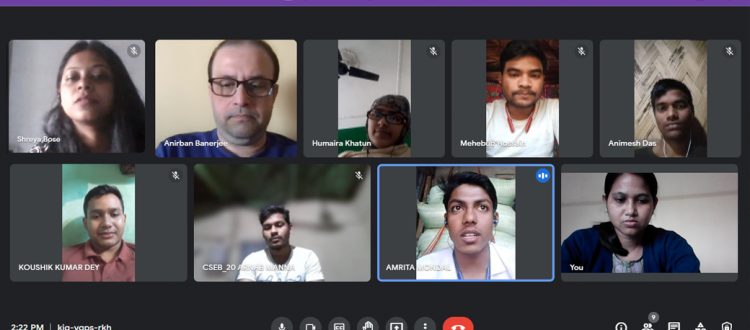 TSS Sponsor – Student Meet between Mr. Anirban Banerjee and Students
On 31st December 2021 Friday, Mukti TSS (Talented Student Sponsorship) team conducted a virtual sponsor student meet between Mr. Anirban Banerjee and his 6 sponsored students. As the Omicron, highly transmitted Coronavirus new variant hits India the Government has issued stay-at-home orders. Acknowledging the importance of the changing situation and emphasizing the safety of the students, the Mukti TSS team arranged sponsor-students virtual meetings. Physical meetings have been postponed till the situation improves.
Due to the prolonged school and colleges' discontinuation, the students are losing focus from their studies. In addition, poor students, due to financial constraints, are being forced to find a way out of the arena of education to earn a living. They need the support- to be by their side, of their parents as well as their sponsors so that they do not lose interest in their studies during these difficult times. Mukti has taken the initiative to illuminate the light of assurance and belief in their minds through the sponsor-student meetings.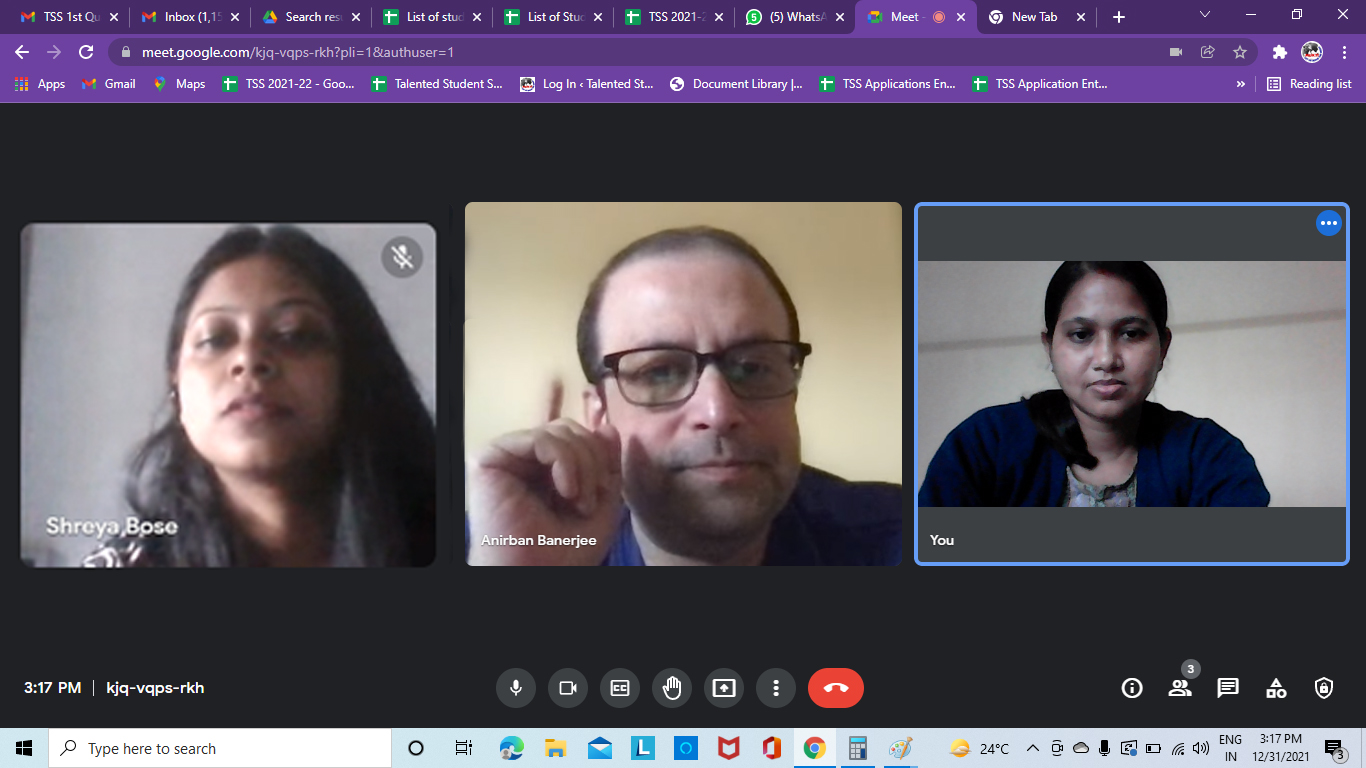 Mukti expresses sincere thanks to Mr. Banerjee for helping the students not only financially but mentally and filling in the gaps between what the students have and what they need during this global crisis. Without his support, the students may not be able to continue their studies.
Mr. Banerjee is associated with Mukti from this current academic session, 2021-22 and is sponsoring Amrita Mondal, Arnab Manna, Koushik Kr. Dey, Humaira Khatun, Mehebub Hossain and Animesh Das. Among the 6 students, 1 is of Medical, 3 of engineering and 2 of Science categories students of TSS project.
Mr. Banerjee was born in Kolkata but at present is staying in New Jersey, USA. He is staying there for 19 years and is associated with Accenture, New York.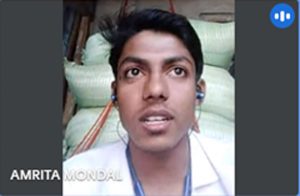 Amrita Mondal is presently pursuing M.Sc in Mathematics (H) from Burdwan University. He stays at Padmadanga village in Hooghly. He belongs to a middle-class family. There are 5 members in his family. He has a younger sister who is studying in class XII. His father Mr. Narayan Mondal is physically challenged but somehow manages to earn a livelihood by selling vegetables. His mother bears all the responsibilities of their family on her strong shoulders with a smile. After completion of the course, he wishes to work either in a government organization or in the banking sector.  He is preparing himself to sit for WBCS (West Bengal Civil Service) examination.  His only dream is to get a good job in the future to keep his family happy and comfortable.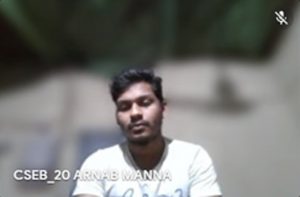 Arnab Manna is a student of B.Tech, 1st year with Computer Science & Engineering. He is from a poor family who resides at Uttarbar village in Paschim Medinipur, along with 5 members. His father Mr. Navendu Manna is a farmer and his mother Ms. Barnali Manna is a homemaker. He has a younger brother who is studying at primary school . With a very poor income, it was impossible for his father to continue his studies expenses. The situation of the family goes miserable when in September 2021 their house and cultivation were damaged by the heavy rain. Despite heavy poverty, his spirit remained strong. The challenges made him more determined. Defeated by his determination fate became kind to him. Mr. Banerjee selected him as his sponsor student. After B. Tech he wants to complete M. Tech.
The 3rd student is Mehebub Hossain, a 3rd-year student of Chemical Engineering, Jadavpur University. He stays with his family with 6 members. His father is surviving heart injuries for the last 1-2 years and needs surgery. The surgery is getting delayed due to an unstable financial situation. Even proper treatment get hampers due to lack of money. His father is unable to do any work for his physical inabilities. They cultivate a few small crops like paddy, wheat and manage to earn a little money by selling those crops. Mehebub teaches 3 school students to support his family as much as he can. He is determined to do well in his studies and for that, he is willing to sacrifice all the small joys growing up have.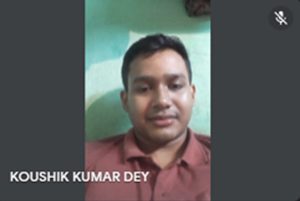 Koushik Kr. Dey is currently pursuing B.Sc.2nd year with Microbiology.  He stays at Cossipore road in Kolkata. His family consists of 3 members. His father Mr. Santosh Dey is unemployed and his mother Mrs. Maya Dey earns livelihood by stitching clothes. His father helps his mother in her job. His mother fights day in and day out to take care of her family. Although she wants to educate Kaushik in higher education, she cannot afford it. But his mother continued to encourage him to continue his studies. The mental strength he received from his mother is leading him towards his goal. By tutoring, he helps his mother to run the family as well as try to continue his studies. After B.Sc he wants to do post-graduation and till then he will enroll in a short-term career enhancement course.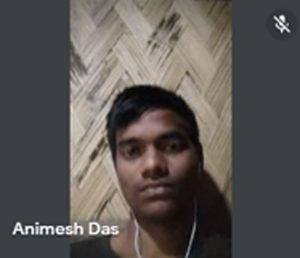 Animesh Das is a student of B.E 3rd year of Electrical Engineering at Jadavpur University. He stays with his parents and sister at steamer ghat Paschim village in south 24 Parganas. His father Mr. Amar Das works in local fishing boats and his mother Mrs. Pratima Das is a homemaker. He has a younger brother who is studying in class XII. For economically disadvantaged people, higher education is just a dream and a luxury. From a young age, his parents teach him to dream bigger. His only goal is to make that dream come true. That is why he did not lose hope even in thousand problems. He is planning to do a job just after his final examination to support his family. While doing a job he wants to continue for higher studies.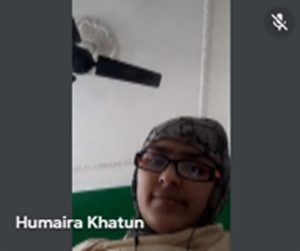 Humaria Khatun is a resident of Mallickpur Kazipara in south 24 parganas .She is presently pursuing MBBS 1st profession from Calcutta National Medical College & Hospital. She stays with her father, stepmother, grandmother and younger brother. Her father Md. Abzal Hossain is an owner of a cycle garage and is the sole earning member in her family. She wants to be a doctor and serve the poor free of cost. After completing the course she wants to pursue MS in general surgery.
Mr. Banerjee advised the students to learn spoken English and to be focused on their goals. He suggested they enroll themselves in institutions where they can easily enhance their English speaking skills as beginners. Meanwhile he himself will help them to improve their English speaking skills. He also asked the TSS team to help the students in finding coaching centers to learn spoken English. To motivate the students Mr. Banerjee shared his childhood stories, memories of struggle, working experiences. He said not to get demoralized even in failure as failure can teach us the way to success. He assured all his support throughout their career. He will also guide them to choose a proper career as their mentor.
The students with an open mind shared their views, problems, dreams, future planning with their mentor. After meeting each other they felt very happy and expressed their gratitude to Mukti TSS.
Mukti TSS is honored to have such students who don't face out under any circumstances and Mr. Banerjee for being so supportive to the students.