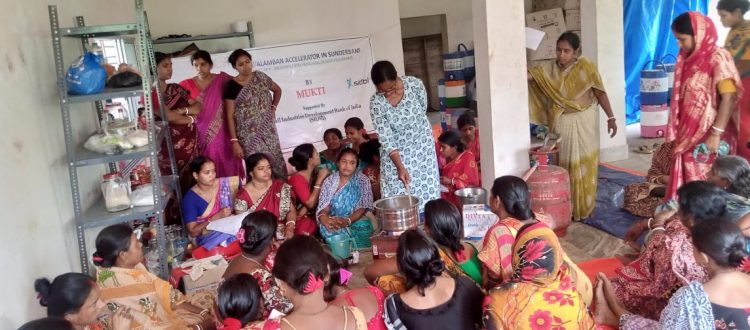 Through the "Swabalamban Accelerator" Program Mukti Trained 103 MCDF Members
The "Swabalamban" scheme is one of the major schemes launched by Mukti in association with SIDBI for the MCDF members of Sunderban. The training program included various skills like soft toys making and food processing. After the completion of the training, bank linkages will be facilitated by SIDBI for their livelihood.
The objective is to motivate the SHG members for taking up self employment activities. The aim of the scheme is to provide self employment to 1,000 SHG members based on their choice and viability.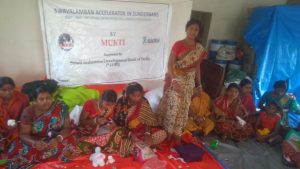 The first phase of the "Swabalamban accelerator" program ended on 15.03.21. 48 SHG members from Kankandighi and Purbasridharpur branch participated in the program. At the first phase they were trained on making soft toys. Mukti provided necessary kits to each of them which contained 50 roll threads, 2 pieces of scissors, 2 pieces thread cutter, ruler, tape, chalk and cloth. Mr. Madhab Chatterjee trained them to make soft toys. They learned to make soft toy models of dog, rabbit, chicken and elephant.
The second phase which was on Food processing started on 17.03.21 and ended on 20.03.21. Total 50 SHG members participated in the food processing training program. Out of them 17 SHG members were from Purba Sridharpur and 33 SHG members were from Kankandighi Branch. They were trained to make tomato sauce, brinjal pickles etc. Mukti provided kettle and jars to the trainees. Mrs. Usha Mondal trained the trainees on food processing.
The third phase of the training program started from 24.03.21. The soft toys making program is scheduled for the MCDF members of Raidighi I and Raidighi II. 40 participants from the said locations joined the program. Mukti provided the the same kit for soft toys making to each of the participants. Like Kankandighi and Purba Sridharpur, Mr. Madhab Chatterjee is training them for the said program. They have started learning on how to make soft toy model of Dolphin.
In near future, Mukti will conduct such training programs for the MCDF members of other branches also.