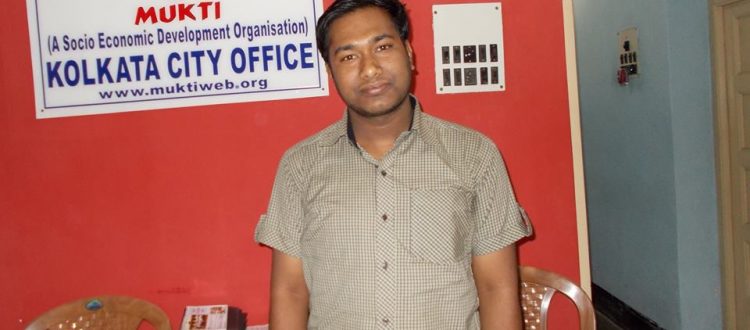 Success Story of Ardhendu Pal under TSS Program
Ardhendu Pal was born on 25th September 1993 in the family of a farmer in Deulpara in the district of Hooghly. Being the only son of Sri. Sanku Kr. Pal and Smt. Manasi Pal, Ardhendu was his parents' only hope and support to overcome poverty and insecurity during old age.
Ardhendu studied in the village school and was loved by his teachers for his sincerity, hard work and efforts to become a good student. Hence, when he was in Std. V, his teachers offered him free coaching support and even financial help to buy books. They continued this support till he qualified for admission in Engineering courses through the Joint Entrance Examination in 2012 with a rank of 194.
As Ardhendu's family was unable to bear his educational expenses, Ardhendu sought guidance from seniors in the village and borrowed books from them for his studies.
On the merit of his JEE rank, he obtained admission in Jadavpur University for the Bachelor's course in Electrical Engineering in 2012. However, it became very difficult for him to meet the educational and accommodation expenses while staying in the hostel. It was a cause for worry, and he felt that he might have to discontinue his studies. During this time, he came to know from some of his seniors in the university about the Talented Student Sponsorship Programme of Mukti. Ardhendu was able to put in his application just before the deadline for submissions.
Ardhendu heaved a sigh of relief when he was informed that his application has been selected and after a thorough interview, Dr. Vishwanath Jogini showed interest in sponsoring him. Ardhendu has been receiving sponsorship from Mr. Jogini since 2012 and with the support from his sponsor, Ardhendu has reached to the last segment of his B.E.E. degree.
He is currently in his 6th semester. In the meantime, he already has offers from two renowned companies, Wipro Digital and TCD-TIS. Ardhendu plans to join Wipro Digital in the month of June 2016 with the designation of Senior Project Engineer and a monthly salary of Rs.35, 000/-.
Ardhendu plans to pursue M.Tech / MBA degrees in the near future and also wants to appear for the Indian Engineering Services Examination of GOI. But at the moment he is focused on supporting his family financially, as his father is very ill and unable to contribute to the family income.
Ardhendu says that he thinks himself to be "very lucky" to have gotten support and motivation from Dr. Vishwanath Jogini, and he is very thankful to him. He said that he is in regular contact with Dr. Jogini as he is an inspiration for him, and it was solely because of his sponsorship that he was able to pursue his degree studies. Ardhendu himself wishes to support needy students in the future.
We wish him all the best for his future and also wish that he accomplishes his dreams successfully.