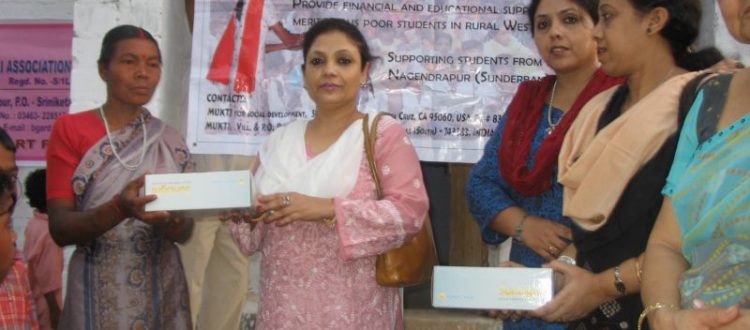 Solar Light distribution from MSD, USA for IWC
Inner Wheel Club (IWC) of Calcutta West is part of Rotary International that was founded on 10th. January, 1924. Our 2009-2010 "HELP bring HOPE" motto matches with Mukti for Social Development's stated goal to foster self-reliant and thriving communities amongst low-income and under-privileged in developing and under developed nations especially India.
This project was fully funded and supported by Mukti for Social Development, USA.
On April 8th, 2010 we visited three villages near Bolpur in Birbhum district of West Bengal that have no electricity. The local people are farm laborers and due to extreme poverty, the children drop out of school and work to support their families. The local school teachers and some well-wishers formed a society called "Siksha Sahayata Kendra", which is not yet registered but has started primary schools for the village children.
.We distributed the 6 solar lights at Mahula Santhalpara, 2 at Ballabhpur and 8 at Faridpur. The teachers, students and the guardians were very happy with the lights which provided them light for the night schools for the working children while saving money and health from not using kerosene. They wish to have more lights in future to support their growing number of students.
We are happy to see that "HELP bring HOPE" is working amongst the underprivileged population of the world. We would definitely like to work with MSD in future so that we can reach out to more such villages'.
Thank you Mukti for Social Development for supporting these downtrodden villagers and help them improve their living conditions.
| | |
| --- | --- |
| Organization | Inner Wheel Club (IWC) of Calcutta West |
| Registration | Charter no. 4001, Dist. 329, Rotary International |
| Address | 22A, Mandeville Gardens, Kolkata-700019, India |
| Email | pal.22mg@gmail.com |
| Phone | +91- 9831328590 |
| Contact | BASURANI PAL, President |