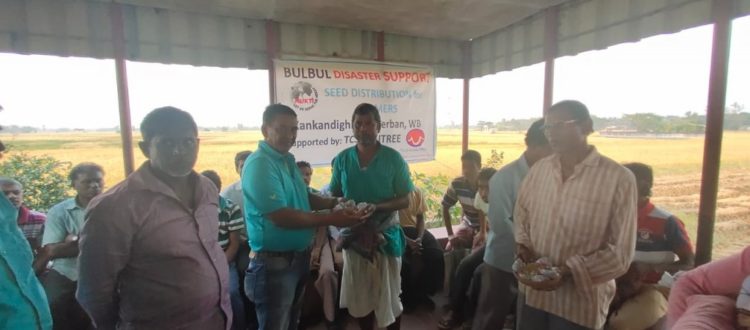 Seed Distribution Program For Bulbul-impacted Farmers At Jotar Deul
Agriculture is the main source of livelihood for most residents of Sunderban. With farmers cultivating their fields for crops, that feed their families and earn them a living, they are completely dependent on their harvest. But 10th November, 2019 was a day of terror for them – Cyclone Bulbul completely devastated their harvest. The farmers were left without any form of sustenance.
In order to help these farmers in need, Mukti organised a set of seed distribution camps, where hundreds of farmers were provided with seeds for the next cultivation season. With the harvesting season right around the corner, the farmers lost their crops in the filed, due to the torrential rainfall. Flooding left the fields completely ruined.
The seeds provided to them will help the farmers to start preparing for the next cultivating season. They are also provided with a lot of technological support from Mukti. This helps them to get the best results from the effort they put in.
Hundreds of Mukti volunteers and stakeholders are working together to help these farmers get back on their feet. But we need your help to help them more. Please help us, help them!
Donate Now!
Browse the photos here!