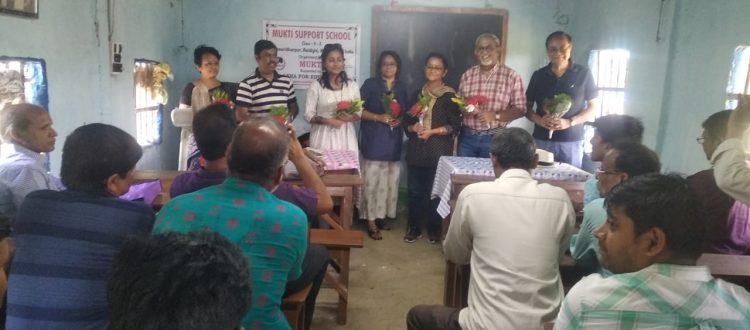 Representatives of "Kolkata Foundation" Visited Mukti Gram to Launch New Projects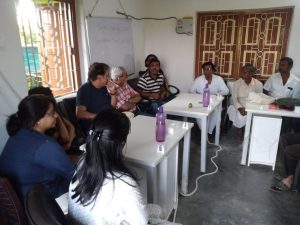 Representatives of "Kolkata Foundation" visited Mukti Gram to develop a framework to implement two new projects for rural women in the health (Sastho Songini) and rights sectors. The visit was scheduled on 31st October 2022, Monday. Through their visit, they also observed the current projects supported by them and evaluate the sustainability of the projects. They had a meeting with the MCDF members and explored various project sites of Mukti.
Mr. Nitin Kotak, Mrs. Dipti Kotak and Mr. Manab Sen from "Kolkata Foundation" were assisted by Dr. Kasturi Basu – Mukti BOD, Mrs. Sonamon- Project Manager Health, Mr. Sankar Halder – Founder President of Mukti, Ms. Nandita Jayraman, Mr. Raghunath Bairagi, Mr. Harisadhan Mondal and Mr. Bimal Khan on behalf of Mukti.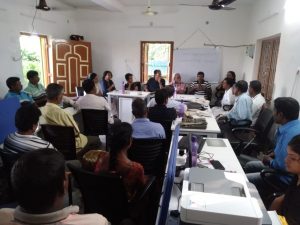 In the first half of the itinerary, they went for a field visit. They went to visit the Gram Clinic and shared their valuable advice and suggestions regarding health-related projects. Other than health-related project sites they also visited Mukti Support School, SAM (Sustainable Agricultural Movement) office, the cyclone tolerant housing project and various projects that Mukti is running for women empowerment in Mukti gram.
In the second half, they participated in the meeting with MCDF (Mukti Community Development Fund) members. 15-20 MCDF leaders attended the meeting. After the implementation of the new projects, all these leaders will work as field workers. 30 leaders will work in the health sector and 30 leaders will work in the women's rights sector. It was an interaction meeting on basic project discussion. The representatives discussed the process and structure of the forthcoming projects. They wanted to know from the MCDF members their perspective on the present condition of health-related issues in their local area, what women are expecting from the project and what will be their aim while participating in the project.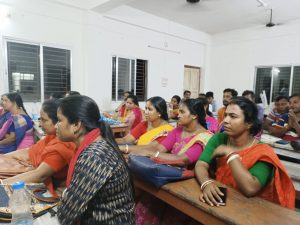 Dr. Kasturi Basu elaborated to the MCDF members how Mukti is planning to run the projects, the role of the women in the project, how they will get trained etc.
Very soon with the help of the MCDF members Mukti will initiate these projects for the welfare of rural women in Sundarban.