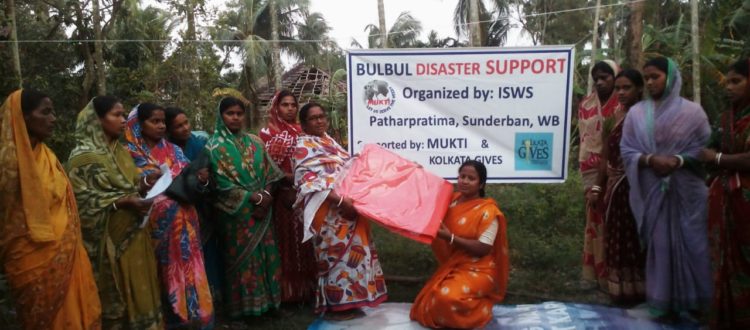 Relief Work in Dakshin Shibganj, Pathar Pratima in Collaboration with Kolkata Gives Foundation
Normal life came to a halt for over one lakh families as Cyclone Bulbul hit Sunderban on 10th November, 2019. The strong winds and torrential rains managed to damage the lives of these people as they not only lost their homes to the storm but their livelihood was partially destroyed as well. Huge trees fell on the thatched huts, where most of the mud walls gave away, rendering thousands homeless. With the harvesting season around the corner, many farmers lost their crops and agricultural land to the cyclonic storm.
Mukti has been carrying out relief projects throughout Sunderban, covering over 40 villages. Seeing the invaluable relief work being conducted by Mukti in the Cycle Bulbul affected areas of Sunderban, Kolkata Gives Foundation has very kindly extended their support to the cause. With their donations, Mukti was able to provide for nearly 600 cyclone-affected families from different villages, one of them being the village of Dakshin Shibganj in Pathar Pratima Block.
In this village alone there are 20 families who have been severely affected by the cyclone. The members of these families were provided with 6 tarpaulins, 4 mosquito nets, 10 thick woollen blankets – based on the immediate needs of each member.
By providing them with the basic utilities of everyday life and food materials we wish to help these people in their times of plight. There are many other such families waiting for our help. We would be grateful if you could come together and help us help them!
Donate Now!
Browse the photos Click Here