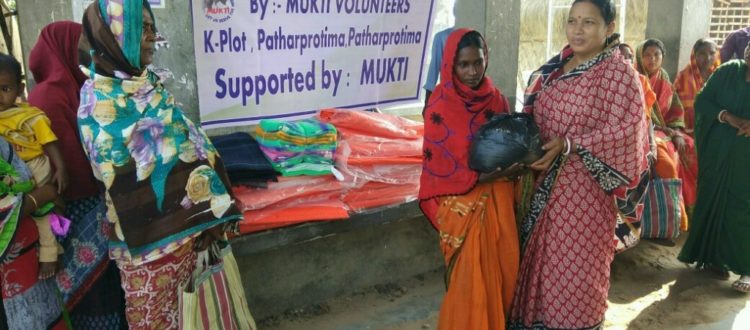 Relief Work at K-Plot in Collaboration with Kolkata Gives Foundation
Cyclone Bulbul might have visited Sunderban only for one night but the amount of destruction as a result of this storm will have its effect for many days to come. Hundreds of families have lost their homes and livelihood to these devastating winds and rain. For an agro-based township like Sunderban, loosing harvest and livestock, is an irreplaceable loss. Many families are still without proper shelter and at times, without a proper meal.
The terrible cyclonic wind and rainfall affected the lives of many residents of K-Plot in Partha Pratima. Seeing Mukti's role in helping these families in distress, Kolkata Gives Foundation kindly collaborated with us, to provide them with basic utilities of living and food commodities.
Families were provided with mosquito nets and woollen blankets to help them sustain through the night. Many of these families have lost parts of their house, they were provided with basics like utensils and other utility products to help them get back on their feet. Children who lost their books and school supplies, were provided the same for support.
But we are still a long way to go. Any help from your side will help us to provide more support to them. Please come forward to help us, help them!
Browse the photos here!