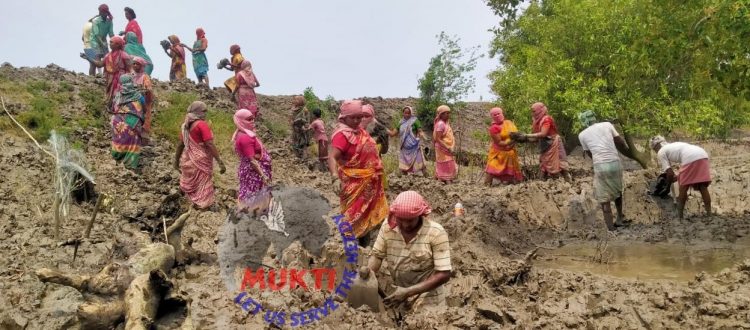 Rebuilding of River Embankments Begins Post Yaas
Heavy damages to the earthen embankments have wrecked life in various viilages of Sundarban. Saline water flooding miles of crop land will spell disaster as this would severely affect agriculture, fish farming, and sustainable livelihood in large areas of Sundarban.
These horrific portraits of devastation were seen in the aftermath of Yaas across villages of Sundarban. Just after the destruction, villagers were busy repairing the pretentious mud wall they call embankments to stop the ingress of saltwater into their agricultural fields and ponds.
Mukti, the Irrigation Department of West Bengal and the villagers are working hand in hand to reconstruct the river embankments. Mukti is supporting the villagers by provided them nylon rags to rebuild the embankments. The workers are working under "Food for Work" project and they are receiving 1 Kg Rice, 1 kg Dal and 1Kg Wheat every day.
Village Name
Gram

Panchayat

Block
River Embankment Damaged (Km)
Nylon Rags
Number of Beneficiaries
Haldergheri
Bhubaneswari
Kultali
3
1500
395
Purba Sridhrapur
Nagendrapur
Mathurapur II
6.5
3500
350
Damkal
Nagendrapur
Mathurapur II
5
168
Kuyamuri Kheya Ghat
Herembogopalpur
Patharpratima
15
1500
400
4 Villages
3 GPs
3 Blocks
29.5
6500
1313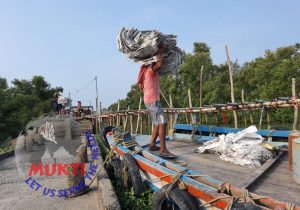 With these areas Mukti also supported Raypur under P.S. – Dhola and Block – Patharpratima by providing 1600 nylon rags to rebuild the river embankment.