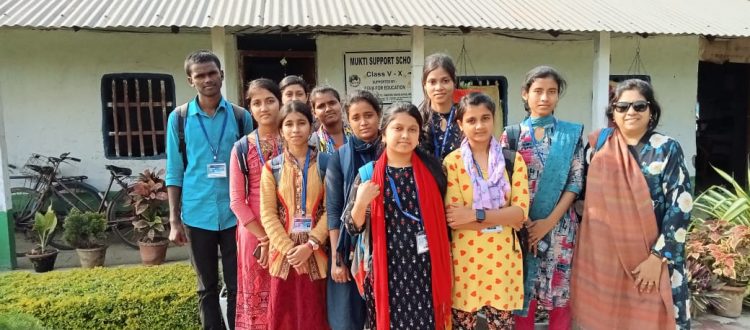 Educational Tour of Model Village by Raidighi College Students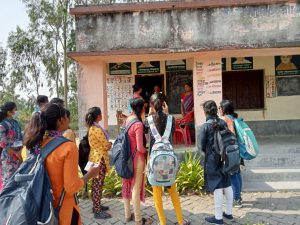 10 students of the Department of Food and Nutrition, Semester-V (Hons.), Raidighi College (affiliated with the University of Calcutta) visited the model village at Purba Sridharpur on 15th December 2022 from 11 am to 2 pm. The students came with the Department Head and Program Coordinator Dr. Arvinda Shaw, as part of the practical syllabus of Calcutta University where students are instructed to visit an NGO and prepare a paper on public health.
Ms. Sonamon Basu, Mukti Health Program Manager guided the students to the model village from Raidighi Bazar. Mukti staff greeted the students with a warm welcome and some refreshments. At first, they headed towards the Purba Sridharpur Paschimpara FC Primary School where Mukti is building a 12'/40' hall which was destroyed by a natural calamity. Then they visited Mukti public library where underprivileged students are supported with academic books.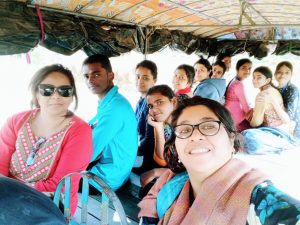 The main point of attraction for the students was the MuktiCommunity Clinic, run by a local medical practitioner. The clinic services are available for the local people from morning 10 am to 3 pm. All minor ailments are treated here, and special cases are referred to the nearby government hospitals. Ambulance services have also been launched by the clinic with support from MUKTI. From time to time, free medical camps are organized by the clinic to serve the socio-economically disadvantaged population of the village. All medicines are given at reasonably discounted prices.
After visiting the clinic, the students visited Mukti Support School, different community services such as drinking water tanks, Vetiver nursery, dragon fruit plants, medicinal plants, different flowering plants, coconut nursery, animal farm and husbandry. The architectural pattern of the cyclone-tolerant houses astonished them. They went to see the mangrove plantation and restoration site. They appreciated the improved agricultural practices of Mukti which help to yield greater crop production. The techniques are being taught to farmers by experts, and seeds are being provided as well.
The educational visit ended with interactions with the local people/villagers. It was an enriching experience for the students, and they appreciated how Mukti has been working for the upliftment of villagers as a"HEALER" through its various projects.