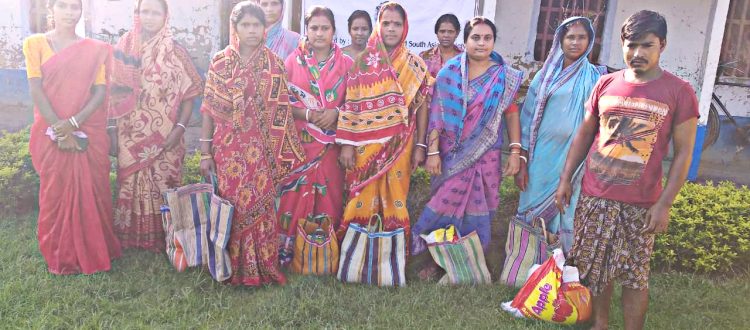 "OxSAS" Supported Mukti with Dry Ration to Feed the Covid Affected Families
The second wave of the COVID-19 pandemic is one of the most serious threats India has faced in centuries, calling for global help. Since the fight against the outbreak is likely to be a long one, it is, unfortunately, the marginalized and the poor who suffer the most. For this, Mukti has been working to help mitigate the impact of the second wave of COVID-19  and ensure that the basic needs of the underprivileged families, affected by Covid-19 are met and no one goes to sleep hungry.
With businesses shut and shops closed, daily wage earners and migrant laborers are struggling to survive during the lockdown period. Their livelihoods have been severely affected by the restrictions the government has put in place, and many battles hunger on a daily basis. To help ease the situation, Mukti, in coordination with the "University of Oxford South Asian Society" (OxSAS), has distributed 50 dry ration kits on 21st October 2021, Thursday to ensure these individuals have some access to nutrition. The ration kits containing rice, lentil, oil, soybean, salt etc will help a family survive for one month.
OxSAS Supported Mukti to Help the Covid-19 Affected Families with Dry Ration at Nagendrapur GP
Mukti organized the ration distribution program at Nagendrapur GP under Mathurapur block II. In the first phase, 50 families receive dry ration and in the second phase, 50 more will be supported.
Mukti expresses heartiest gratitude to the "University of Oxford South Asian Society" for supporting the families in need. With your help, Mukti is able to expand its reach and help more vulnerable families. During the pandemic, this need has only grown when so many are struggling just to put food on the table.
The beneficiaries appreciate Mukti and the "University of Oxford South Asian Society" and said that during this time of uncertainty, it makes them feel so grateful that the families in their communities do not have to worry about food. In their desperate situation, they are overjoyed to get nutritious food.