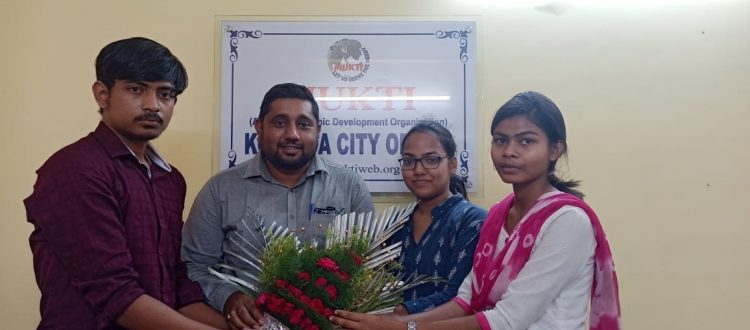 Mukti TSS Team Conducted Face to Face Sponsor Student Meeting
On 25th March, 2021, Thursday, Mukti TSS team organised a sponsor student meet at the city office of Mukti at Garia. Since the outbreak of the Covid-19 pandemic, these meetings are being organized on virtual mode.
Mukti TSS team is grateful to Srijan Realty Pvt. Ltd. for supporting the talented students who despite all barriers fighting to achieve their dream career.
The meeting was conducted between the sponsor, Mr. Debarshi Saha and the sponsored students, Moumita Garai,Nayonika Niogi and Akash Khan. Mr. Debarshi Saha is a senior magager of CSR group from Srijan Realty Pvt. Ltd.
Moumita stays at Dubrajpur in Bankura district .She is currently pursuing B.Sc. Nursing 1st year from Government College of Nursing, Bankura .Her parents know the value of education. With their little affordability they had supported their two daughters. But they can't afford for higher education. From her childhood Moumita dreamed to be a nurse and serve the society. With strong determination she wanted to fulfill her dreams. She applied to Mukti TSS and was selected as a sponsored student by Srijan Realty Pvt. Ltd.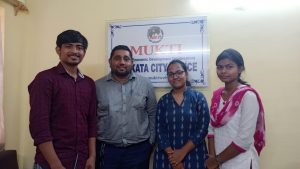 Nayonika Niogi is a BA 1st year student of Mass Communication & Journalism from Asutosh College. Nayonika lives at Rajpur-Sonarpur in south 24 Parganas. She wants to be a journalist. She wants to support her family. Her father is retired now and he was the sole earner for his family. Nayonika needs financial support for her higher studies. The struggle of life taught her not to get hopeless. With a lot of hope she applied to Mukti to get scholarship. Srijan Realty Pvt. Ltd. selected her as their sponsored student.
Akash Khan is pursuing B.Sc.1st year with Agriculture honors from Sister Nivedita University. With a very little income it was not easy for his parents to continue his studies. Aakash wants to make his career in agriculture related jobs. His aspirations lead him to come to Mukti. He got selected by Srijan Realty Pvt. Ltd.
Mr. Debarshi Saha shared with the students his past memories, working experience, the journey of his life, what are the rest he still want to achieve and so on. He advised them to study well and be focused in their own aims of life.  He assured his all support to the students. He requested the students that with studies they must involve themselves in social works as this will help them to become a better human being. He expressed his wish to meet the students again along with Mr. Pawan Kumar Agarwal, Director of Srijan Realty.
Students also shared the challenges they face for their education, they talked about their dreams – what they want to be in future and requested Mr. Saha to give proper guidence for their future. The students expressed their gratitude to Mr. Saha.
At the end of the meeting Mr. Saha was felicitated with a bouquet, thei annual report of Mukti and a packet of sweets.