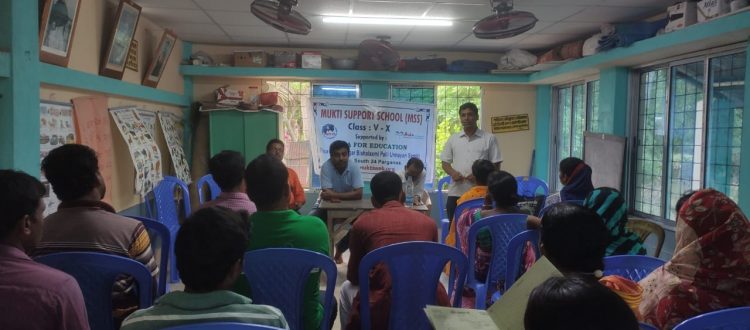 Mukti Organized MSS Parents-Teachers Meeting
Mukti, to enhance student achievement, to increase parental involvement in education conducts parent-teacher interaction meetings at regular intervals. Regular parent-teacher meetings induced parents to spend more time assisting their children and monitoring their school work. Not only does this help to improve students' test scores but it also results in improvements in student attitudes and behavior. The treatment effects are robust across parental, teacher or school-level characteristics.

However, the educational reality in rural areas like Sundarban is fundamentally different, as many children are first-generation students whose parents are often unable to follow what happens at school. Schooling has long-term benefits for children but short-term costs for parents.  Many low-income households in developing countries often keep their children out of school to supplement household earnings or to do household work.  Many of these parents are not motivated to send their children to school or encourage them to study. Nevertheless, there is growing evidence that providing information to parents can help the children learn at home. Parental involvement in schools may improve accountability and transparency, resulting in the improvement of school services. Teacher accountability is likely to be improved by regular reports to parents.
To explain the above issues to the parents and to discuss the issues in person Mukti Support School teachers have organized 3 Parent-Teachers meetings between 20 to 25th June 2022 in different MSS centers.
| | | |
| --- | --- | --- |
| Center Name | Block | Number of Parents |
| Jay Krishnapur | Mathurapur II | 24 |
| Rudranagar | Sagar | 25 |
| Sonakhali | Basanti | 27 |
| 3 centers | 3 blocks | 76 |