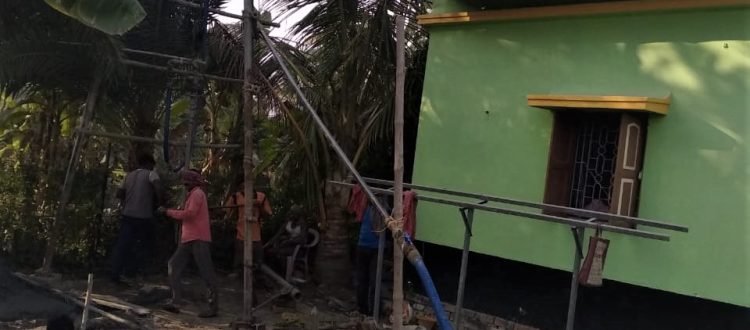 Mukti Installed Submersible Pump Sets At Mukti Gram
To address the scarcity of potable water Mukti installed two submersible pump sets at Mukti Library ground and at Ramkrishna Bazar. Mukti has taken the initiative to stop water-borne epidemics and to make safe drinking water accessible to people.
Every year, with the start of summer, drinking water crisis from different parts of the villages starts pouring in. For a couple of months the problem persists.  During this period, millions of rural households, livestock and crop lands reel under the drought and fight a lone battle for survival. To support them all, Mukti planned to install submersible pump sets.
These pumps were installed with a 2,000 litre water tank. Within 25-30 minutes the tanks will be fulfilled. Mukti will turn on the pumps as per the requirements.
300 families of Mukti Gram will be benefitted. Along with the villagers Mukti will use the water for Mukti central Garden, horticulture nurseries and roadside plantation.
8 technicians worked for the installation program. They were paid by Mukti.
Mukti hopes that the venture will overcome the scarcity of safe potable water and thus thousands will be benefitted.