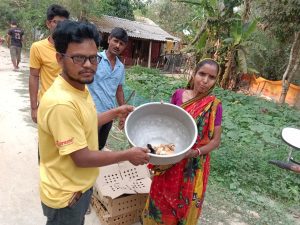 Coal India's project "मुर्गी पालन द्वारा आजीविका और आय सृजन सवार" (Generating livelihood by chick-rearing) has empowered thousands of SHGs in the rural and remote areas of Purba and Paschim Medinipur since the initialization of the project in December 2022. The project has offered marginalized groups, especially women, both food and financial support by addressing malnutrition and poverty. With Coal India'ssupport, Mukti distributed 28,280 chicks (in the first, second, third, fourth and fifth phases) to 1742 Mukti Community Fund (MCDF) members.
Mukti organized the sixth phase distribution on 19th and 20th April 2023 at Keshiyari GPs 1, 5, and 8, Narayangarh, and Datan I under Egra block of Purba Medinipur district. 16,500 chicks were distributed to 860 MCDF members.
The project is also helping to promote and support backyard poultry in rural areas for disaster recovery and rehabilitation, entrepreneurship development and livelihood support. Besides distribution, Mukti is also building the capacity of beneficiaries by imparting training to them on rearing chickens.