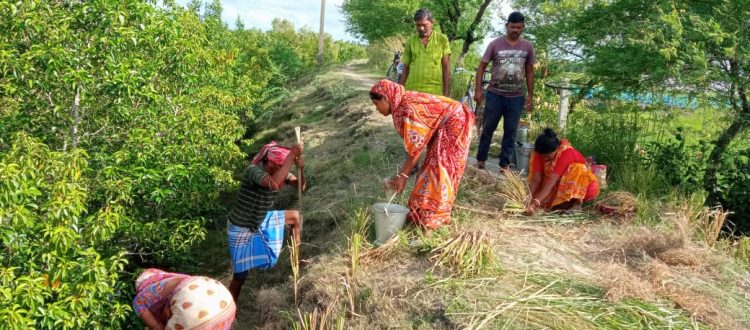 Mukti Creating Bio-Shield through Vetiver Plantation
The recurrent breaches in the earthen embankments are an age-old problem in the coastal districts. The palliative works like plugging or strengthening the embankment have not ensured freedom from the flood.  It is now realized that we need to explore an alternative solution. The protection of embankments through Bio-Shield has emerged as a new concept.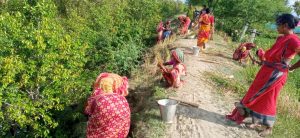 Against this backdrop, Mukti has started to plant vetiver grass along the riverside slope of the embankments. As an experimental project, Mukti has planted some vetiver grass on the embankment adjacent to the Mukti library at Purba Sridharpur under Mathurapur Block II, South 24 Parganas. Being enthusiastic about the success of the project Mukti has been willing to breed and plant this grass on a large scale throughout the Sundarbans. About 200 meters of the embankment, adjacent to the Mukti library is currently being planted with 3350 grass.
The deep roots – two to four meters in depth – of the vetiver grass help bind soil and prevent erosion. Moreover, when planted in rows to form hedges, the grass slows down water flow by acting as a barrier, thus reducing the erosive power of the deluge. Roots of vetiver grass have medicinal values while the grass can also be used as animal fodder, and hence the villagers can be encouraged to take up the plantation of vetiver as an alternative means of income. 10 women "Mukti Sathi" are engaged in plantation and are receiving support from Mukti's end.