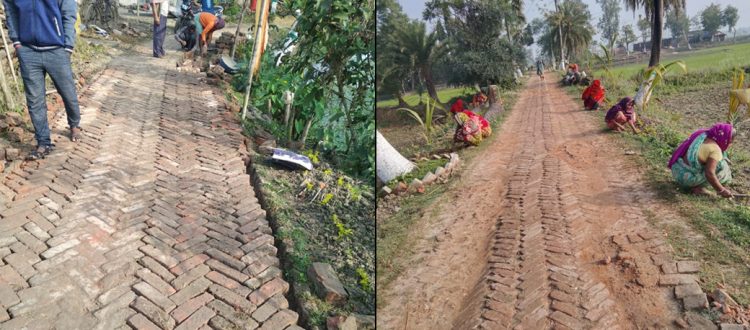 Mukti Continues To Put Effort To Improve the Model Village
Road Repairing
Mukti is repairing the road from Ramkrishna Bazar to Mukti Library at Purba Sridharpur under Nagendrapur GP. The road is made of brick and is 1 km long and 6:30 feet in width. Due to heavy rains, the road has been broken in different places, people and vehicles are having difficulty in traveling. The repairing work has been started from 28th January 2022, Friday. It will take 4-5 days more to complete it. 3 workers and one supervisor are working in a contractual basis.
Nurturing the Roadside Hedge
"Mukti Sathi", the MCDF members of Purba Sridharpur are nurturing the roadside hedges. In addition to watering the trees, dead trees are being removed and replaced with new ones. Every day 8 women works from 6 am to 11 am and approximately plant 200 + saplings.