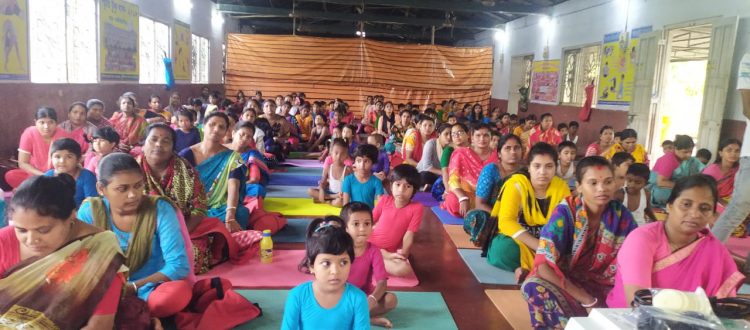 Mukti Conducts Oxygen Concentrator Awareness Program for the Laymen
Mukti has organized a detailed "oxygen concentrator awareness program" on 3rd July 2022, Sunday at "Shyamachran Jogiraj Asrom", Pukurberia under Kakdwip block to boost understanding and awareness around the installation and operation of the O2 concentrators. 270 people including children, adults and senior citizens participated in the awareness program.
During the Covid-19 pandemic, the rapid adoption of these devices has increased significantly. It has become imperative even for the layperson to be aware of the maintenance and basic operations of alternatives like Oxygen Concentrators. The need for proper training has also become necessary for all.
On behalf of Mukti Mr. Jagannath Jana – ex-school teacher, senior volunteer of Mukti and advisory member of MCDF (Mukti Community Development Fund) Kakdwip branch conducted the training program and demonstrated the machines to the attendees. Oxygen concentrators take air from the surroundings, extract oxygen and filter it into purified oxygen for humans to breathe. With the concentrator, a humidifier bottle is attached to help moisten the oxygen patient inhales. The humidifier bottle must be filled with distilled water and attached to the oxygen outlet. The oxygen concentrator needs to stay plugged in at all times to work properly. A nasal cannula or facemask has to be put on and then need to set at the rate prescribed by the doctor.
Along with the demonstration, he also explained some precautionary measures to the participants –
A healthy individual with normal lungs will have an arterial oxygen saturation of 95% – 100%. Oxygen concentrators can be used only in moderate cases of COVID-19 when the patient experiences a drop in oxygen saturation levels below 94%. A saturation of less than 85% is a clinical emergency.
The used nasal cannula or facemask cannot be used for another patient.
Clean the humidifier bottle every three days with warm water and mild dish soap.
Clean the machine's filter once a month by removing the filter and dipping it into a clean container filled with water and mild dish soap.
Patients can avail of the machines in total free of cost by contacting Mr. Jana at 7001540878. Mukti has formed a team with ICDS (Integrated Child Development Services) workers, ANM (Auxiliary Nurse Midwifery), Mukti volunteers and local club members to provide oxygen concentrators to the distressed people suffering from shortness of breath. Mukti will soon organize awareness camps in other blocks too.