Mukti Celebrated "Sankalpa Diwas", 2022 to Strengthen the Bond of Brotherhood
Like last year, this year also Mukti celebrated "Sankalpa Diwas" (Resolution Day), 2022 on the New Year's Day i.e. 1st January 2022 at Purba Sridharpur.  More than 6,000 people of 8 villages under ( Purba Sridharpur, Damkal, Baradanagar  of Nagendrapur GP and Purba Jata, Paschim Jata, Uttar Kankandighi and Dakshin Kankandighi – Kankandighi GP) 2 Gram Panchayats (Nagendrapur and Kankandighi) celebrated this day with Mukti. The celebration started at 7 am and continued till 9 pm.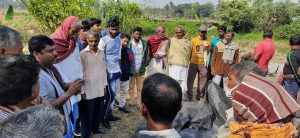 People from different levels and communities of society- irrespective of race, religion, language, gender or age, participated together to make the event a grand success. Mukti Volunteers, Staff, Employees, MCDF Members, Teachers, Farmers and even the villagers will mark this day as a symbol of their hard work, relentless efforts and enthusiasm.
The day started with the Yoga and Meditation session followed by a drawing competition, Kite flying competition, Model village visit and community picnic.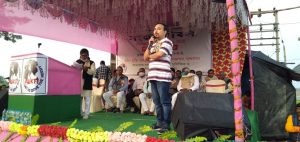 At around 3 pm the main program of the "Sankalpa Diwas" started. The distinguished guests-  Mr. Sankar Halder- Founder-President of Mukti, Mr. Satyajit Ray – Secretary of Mukti, Mr. Nimaichand Halder – Vice Secretary, Nabanna and  Mukti Ex Board member, Mr. Gourmohan Halder – An active advisory member of Mukti, Ms. Bratati Mukherjee– Mukti TSS Alumni student, Mr. Madhusudhan Bairagi – Founder – Secretary of Mukti were greeted with badges. The respected guests host the national flag and the national anthem had been sung by all present at that time. The guests announce the auspice of the program by lightening the lamps.
At the beginning of the program welcome speech had been delivered by Mr. Halder and the inauguration song was sung by Mr. Bimal Khan-  the project coordinator of Mukti Support School. The distinguished guests inspired the audience with their valuable speeches.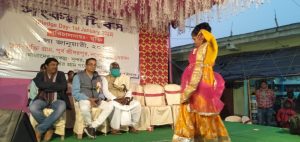 The young children of Mukti village entertained the audience with their captivating performances- dances, songs and recitations.
Through "Danotsav" people came forward with their surplus materials to help those who are in need. Then the prize distribution of drawing and kite flying competition was conducted.
The main program of "Sankalpa Diwas" ended with the motivational speech of Mr. Halder and a vote of thanks.
With a promise to celebrate the day every year Mukti ended the program at 9 pm. Mukti Gram was then glistening in the light.
Gallery link: https://muktiweb.org/gallery/tag/Sankalpadiwas2022