Kite Flying Competition with a Social Message
22 kids aged between 5-14 years participated in the kite flying competition organized by Mukti on the occasion of the second "Sankalpa Diwas". The competition is held in a large open ground at Mukti Gram near Ramkrishna Bazar, so there are no obstructions for flying kites and also a large number of people can comfortably move around. This occasion is specially organized by Mukti as a symbol of social harmony and to gather many kiting enthusiasts at a single venue. The sky was a spectacle with kites flying in different shapes, sizes and colors.
This competition has been aimed to spread social awareness among people. Mukti encouraged the children to make the kites by using only paper and to write far-reaching, effective messages on social reformation on them. The children made the kites on their own and wrote the slogans of their choices like "Save Sundarban", "Stop wasting water"," Elimination of Plastics", "Educated and Healthy Society", "Elimination of Violence", etc.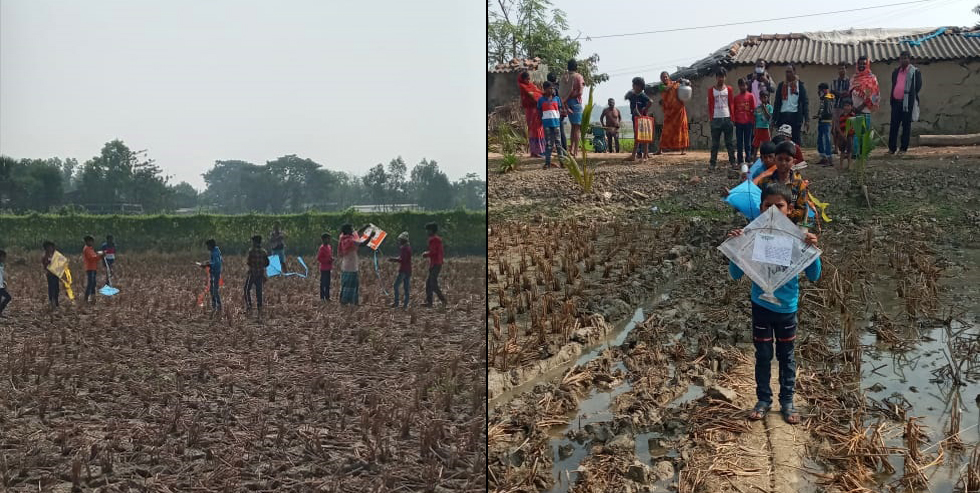 Young children were instructed that they could enlist the help of adults in making kites, writing slogans and flying, but they have to explain the meaning of their slogans in front of the judges. This is meant to help the children understand the meaning of their slogan, to get inspiration from them and not just play.
The prize was distributed depending on the two topics – 1) The best slogan writer and 2) The Highest Kite Flyer. The first and second prizes were given to the winners. Mukti had gifted one glass to each of the participants as a consolation prize.
The novel initiative of Mukti – education by playing – created a lot of vigor and excitement in the minds of the villagers. Mukti is hopeful that people will remember this event and strive to protect humanity and nature from all dangers at any cost.