Mukti Talented Student Sponsorship (TSS) team organized a virtual session for the alumni students of TSS on 15th April 2023. The topic of the program was "Joining hands for a better future: Strengthening our Mukti Alumni Network". The program was conducted by Mr. Sankar Halder, Founder President of Mukti, Dr. Sandip Ghosh (Head of the Mukti Education Department), Mrs. Pampa Karmakar (TSS Coordinator), and Mr. Soumen Bhattacharya (TSS Associate). 97 alumni and continuing students of TSS participated in the program.
At the beginning of the meeting, Mr. Sankar Halder wished everyone a Happy New Year and asked what topics the alumni wanted to discuss. Some of the topics requested, and the corresponding audience members were:
TSS implementation plan (Radhakanta Halder)
Expansion of TSS in rural areas (SashankaNaskar)
How the alumni can help in taking TSS forward (Sayantan Jana)
Objectives and importance of TSS (Anup Singh)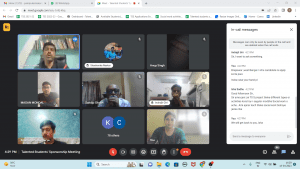 In response to these requests, Mr. Halder spoke of his own life story. He was born in a remote village, PurbaSridharpur, of Sundarban. There was no school or education system in that village as there was almost no human habitation. People were unaware of the importance of education. When he was studying in class eight or nine, there were only 6-8 students. The financial condition of the people was so miserable that two to four of them had to work to earn money to sit for the Madhyamik examination. Mr. Halder's parents were very aware of the importance of education. Despite being a landless family, they helped the villagers in their own way and convinced them to continue their studies. After completing his village school education, Mr. Halder came to Jayanagar and then to Kolkata for higher education. He started studying computer engineering at Jadavpur University, something he could not have done without Mr. Madhusudhan Bairagi's financial help.
Mr. Halder got the opportunity to go to America with a job because the computer age had just started at that time. Being on better financial footing, he wanted to do something for Mr. Bairagi to repay his kindness. Mr. Bairagi motivated him and said that Mr. Halder should do something for people at large instead of doing something for Mr. Bairagi. That event was a complete U-turn in Mr. Halder's life. He began to think in a completely different way. At first, he started helping deprived yet meritorious students according to his ability. The number started to increase slowly, and a virtuous cycle was created. Those who completed their studies with someone's help, they came forward to help many others after becoming established in life. This is how TSS started its journey, by believing in dreams.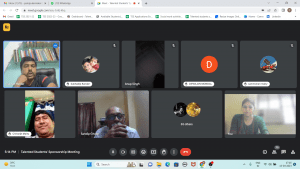 Mr. Halder encouraged the students by saying that students are the actual strength of society. Statistics show that students who have emerged from underprivileged families on the strength of their talents are in the best place in the world today. Poverty is not a curse but an opportunity. The TSS program is designed in such a way that deprived yet talented students who are unable to study due to financial constraints can get an opportunity and establish themselves successfully. In this context, he quoted "Give me all the pain but also give me strength to endure".
Talking about the design of the TSS program, he said that he wants the students to fulfill their own needs first after getting established, then to fulfill the expectations of their family members and relatives. Without meeting these needs, if anyone starts doing social service driven by momentary emotion, it will become a business in the name of social service. If a person is satisfied with his/her personal life then he/she can think about others in distress. Along with this, he also asked to emphasize on values of education and the importance of becoming a complete human being.
Regarding social service, he said that helping with money is not the only social service. Helping someone in his bad times is also serving society. If senior students guide junior students in their studies, then that is also social service. Social service is what comes spontaneously from the human mind.
Indrajit Giri, a student of TSS, asked how the work of this program has been maintained since the inception of TSS. In response to his question, Mr. Halder said that the greatest strength of a man is his consciousness. In many cases, it can be seen that even if there is money, there is no consciousness. You give something back to society by expanding your consciousness. When you earn money, give it to the upliftment of underprivileged people. He talked about removing the inertia of the village students. He advised them not to feel inferior.
He suggested that the TSS technology students should form a group to work on the metaverse technology. He will lead them if needed. He requested Mr. Chiranjit Maity, the national award winner TSS alumni student from Raidighi, who is currently a chemistry professor, to guide the students of classes XI and XII on Chemistry.
At the end of the meeting, he said that the TSS program will be successful only when the students are self-motivated to take this program forward. He concluded the meeting by wishing everyone good health.