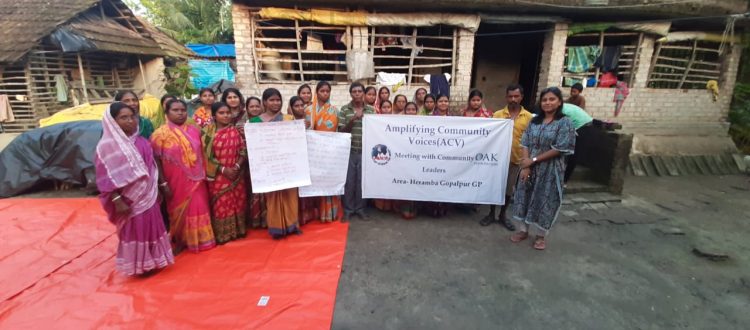 Focus Group Discussion Under ACV Project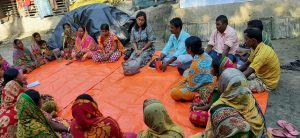 On 9th September 2022, Mukti conducted two focus group discussion sessions on additional sustainable livelihood options, current market status and demand-supply status under ACV (Amplifying Community Voices) project in Kuyemuri and Herembogopalpur village. 23 participants including males and females participated in the session.
In this session, at first, the participants have been asked to list the daily needs of the people in their area. After identifying the needs, they are instructed through discussion to find out how people are meeting those needs. Is there any production of the goods in the area meeting the demand or do people have to buy them from outside? Through discussion 4-5 demands have been raised in terms of priority – the commodities that are having a great demand in the area but as they are not produced locally, people have to rely on external recourse.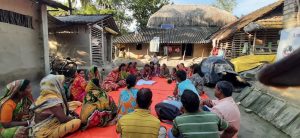 Despite the demand for the products which have to be bought from outside due to lack of local production, they express interest in producing them themselves. Some of them are listed below
Poultry farming – It has been noticed that there is a huge demand for eggs and meat in the villages. But the villagers have to purchase them from an external trader. They have realized that the situation has brought them a golden opportunity for their livelihood. They can make a poultry farm and earn a living by rearing chickens. It will reduce the dependence on outside traders, will meet the local needs and the people of their area will be self-reliant.
Incense stick making – Since there is a lot of worship in the village, the demand for incense sticks is also high. Village women have to use expensive branded incense sticks available in the market which is time and money-consuming. Since the use of incense sticks is largely female-centric and women in ACV groups are mostly involved with some SHGs, they decide to make incense sticks themselves and sell them from other women in the group to all the women in the village.
Sanitary Napkins – As for the unaffordable price of branded sanitary napkins in the market, the women of the villages are forced to use cloth, which is completely unhygienic. The participants have expressed interest in creating awareness about this issue and taking action on how to produce sanitary napkins at a low cost.
After reviewing the issues raised by them, in the next session it will be explained to them the scope of the project, its risk factors, what departments should they participate in or to which stakeholders they have to connect to address these issues.