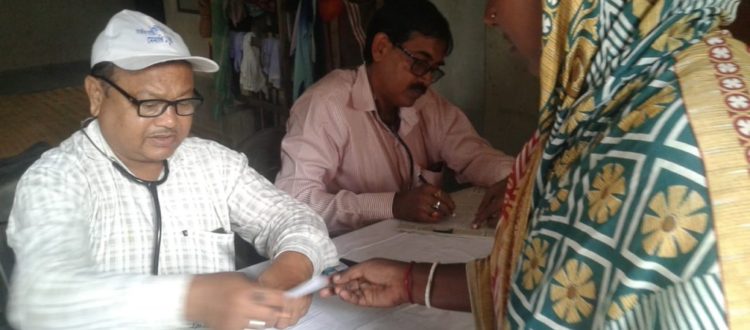 Day 4: Medical Camp at Maharajgunj, Namkhana for Cyclone-affected Families
Post Cyclone Bulbul many villages in Sunderban are still a sight of destruction. With families left homeless and without proper food supplies, medical issues have become a dangerous cause of worry. There are many members requiring medical support for the injuries sustained during the storm or for health problems that have occurred in the last few days.
To help these people in need Mukti has organised a series of medical camps to take place over a period of 15 days in many villages of Kakdwip. On the 4th day of this camp, doctors travelled to the village of Maharajgunj in Namkahana Block. Here 249 patients were in attendance with issues ranging from common cough and cold to different gynaecological issues among the women.
Amongst the patients being diagnosed and treated on day 4, it was noticed that, a large number of them were quite elderly. With the approaching winter, offset of the flu is quite common. Due to the lack of proper shelter, these aged members were treated for cold and fever, and were provided with medical supplies. A few members were treated for skin diseases caused due to the lack of proper hygiene.
We are trying our level best to help these people in distress. We welcome any support, in any form, to take our relief work to many other villages. Please come forward to help us, help them!
Donate Now!
Browse the photos here!